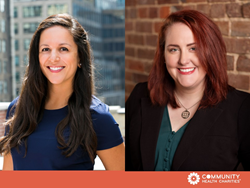 "Jillian and Romana will help us continue to evolve and accomplish our mission to improve health and wellbeing."
ALEXANDRIA, Va. (PRWEB) June 12, 2018
Community Health Charities proudly welcomed two new Board Members: Jillian Niesley, Senior Manager of Strategic Partnerships, Community Impact at Comcast Corporation; and Romana Rolniak, Communication Manager II at Walmart U.S. These two leaders will join an impressive national Board of corporate professionals and nonprofit executives working to build stronger, healthier communities.
"Jillian and Romana will be invaluable assets to the Board," said Tom Bognanno, Community Health Charities President and CEO. "Their depth of experience in corporate social responsibility, employee engagement, digital communications, and new fundraising strategies, will help us continue to evolve and accomplish our mission to improve health and wellbeing."
Jillian Niesley manages Comcast NBCUniversal's philanthropic partnership efforts, as part of the Comcast Community Impact team. She brings nearly 15 years of experience in nonprofit communications, corporate social responsibility, and cause marketing to her current position. Previously, she served in national nonprofit organizations and public television.
Romana Rolniak is a 10-year associate of Walmart, Inc. where she is currently responsible for communicating with 1.4 million U.S. store associates. Previously, Romana held several roles with the Walmart Foundation, where she supported volunteerism, workplace giving, and communications. Romana has led teams to plan and execute giving campaigns, as well as develop comprehensive stakeholder recognition strategies and multi-year fundraising strategies.
Jillian and Romana's official terms on the Community Health Charities National Board of Directors will begin at the fall 2018 board meeting.
About Community Health Charities
Community Health Charities has been empowering people to take action to improve health and wellbeing for over 60 years, by raising awareness and resources for health and wellness. Community Health Charities supports education, treatment, and prevention for those with health challenges; brings organizations together to improve community health; provides individuals with opportunities to get involved; and increases the capacity of nonprofit organizations. Visit http://healthcharities.org/