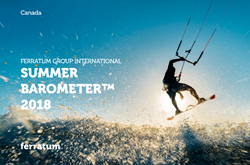 Canadians ultimately love to spend time with their families during the summer, placing that as their number one priority over the coming months...
HELSINKI (PRWEB) June 12, 2018
FERRATUM´S BIGGEST INTERNATIONAL CONSUMER BEHAVIOUR SURVEY
For the eighth consecutive time, Ferratum Group ran its hugely successful Summer Barometer™. Almost 22,000 households participated in the bi-annual survey which, among various things, explored what summer activities participants would be making this summer, whether participants would make their purchases online or through traditional retail, and which country would spend the most this summer.
This year's results show a 26% increase in the number of respondents who said they plan on spending more money this summer than last, while 40% said they will be spend as much as they did last summer.
The Big Spenders
When it comes to how much of their monthly salary would be spent during summer holidays, the results show that the big spenders will be Norway (68.5%), Latvia (67%), Croatia (61.2%), and Mexico (60.3%). While the countries whose participants will spend the least of their monthly salary during the summer are Finland (39.7%), Sweden (37.9%), Poland (14%), and Brazil (13.1%).
Summer spending continues to remain healthy in Canada, with 53% of their monthly salary going to summer activities – it's no surprise, after spending months inside over the winter that Canadians want to get out and experience everything our country has to offer during the warmer months.
Cash No Longer King
Unsurprisingly, 70% of respondents in Norway and Sweden said they prefer using card over cash. However, it isn´t only in Scandinavia where cash is no longer king; more than 50% of survey participants said they will use cards over cash this summer.
Over 60% of all survey participants said they will use mobile banking for their banking needs during their summer holidays. Looking closer, an extraordinary 80% of respondents from Sweden, Canada, Norway and Netherlands said they would use mobile banking during this period.
Online vs Offline shopping
Approximately 30% of respondents said they would be shopping online for products and services this summer, with the UK and Spain leading the charge. Finland, Latvia and Mexico, on the other hand, will stick to traditional retail for their summer purchases.
Traveling Throughout Summer
11.3% of all survey respondents said their holiday travels would be domestic while only 8.7% of all respondents said they would be travelling abroad.
Those traveling said nearly 40% of their entire summer budget would be spent on travel - a 7% increase from last year. The countries allocating the most of their summer budget to travel are Germany (50.8%), Bulgaria (45.8%), Finland (41.1%) and Poland (40.1%).
Participants from Bulgaria, Brazil and Denmark will spend the most on foreign travel on which they will allocate 15% to 21% of their monthly income.
Respondents from Norway (99.43%) are the most willing to spend more than 100 € per night on hotels while participants in Germany (72.18%), the Czech Republic (52.03%) and Bulgaria (48.72%) will use Airbnb the most for their accommodation.
Where The Money Will Go
Regarding what activities respondents will spend their summer budgets on and what percentage, domestic travel was the most popular (11.3%), followed by clothes and summer fashion (10.7%), and social activities such as beach trips, parties, and restaurants (10%).
Family recreational activities or sports - most popular in Mexico, Canada, and the Czech Republic - came next with 9.8%, followed by social events with 9.2%. Only Latvia listed gardening and DYI at the top for their list for which they will allocate almost 16% of their income towards.
Canadians ultimately love to spend time with their families during the summer, placing that as their number one priority over the coming months, but we also love to look good doing it – with 11.8% stating they'd freshen up their wardrobe as one of the biggest spending behaviours.
How was Ferratum Group Summer Barometer 2018 ™ conducted?

The survey was conducted by Ferratum Group who surveyed its active customers in 18 International countries via web survey with a standardised questionnaire. Incomes are stated in local currency, and relative Summer consuming is calculated by the ratio of a family's monthly disposable income in each country. Disposable income were adjusted by each country, individual purchasing power parity based on 2014 figures by The World Bank.
Almost 22.000 households participated in the survey. Respondents were aged from 18 to over 61y. 54.4% of participants were women. The average available net income of participating households was between €603 – €2631. The average household size among the respondents was 2.9 persons.
In addition to demographic factors, respondents were asked about their disposable monthly net income, how much they spend on Summer Holiday, what activities they spend their money on, and if they are gonna use Airbnb services or online banking while travelling abroad.
The survey used each country's respective currency. Responses were evened out to reflect the respective purchasing power of each country. All survey respondents were anonymous.
ENDS
About Ferratum Group:
Ferratum Group is an international provider of mobile banking and digital consumer and small business loans, distributed and managed by mobile devices. Founded in 2005 and headquartered in Helsinki, Finland, Ferratum has expanded rapidly to operate in 25 countries across Europe, Africa, South and North America and the Asia-Pacific region.
As a pioneer in digital and mobile financial services technology, Ferratum is at the forefront of the digital banking revolution. Ferratum's mobile bank, launched in 2016, is an innovative mobile banking platform offering a range of banking services, including real time digital payments and transfers, within a single app. It is currently available in five European markets. Led by its founder, Jorma Jokela, Ferratum has approximately 1.9 million active and former customers who have an account or have been granted one or more loans in the past (as at 31 December 2017), of which over 780,000 customers have an open Mobile Bank account or an active loan balance in the last 12 months.
Ferratum Group is listed on the Prime Standard of Frankfurt Stock Exchange under symbol 'FRU.' For more information, visit http://www.ferratumgroup.com.