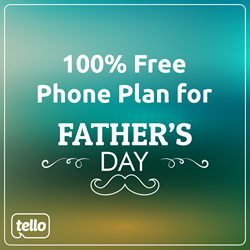 "Tello has been a blessing for us! I am able to have 3 phones for my teens with paying an arm & a leg! The kids love it & so do we. Customer service is awesome with quick responses. My orders have prompt & easy to use. Thanks so much Tello!" (S. Calloway on Trustpilot.com)
ATLANTA (PRWEB) June 12, 2018
Tello Mobile, the most flexible wireless carrier in the USA with the best rating on Trustpilot.com, launches a new and generous promo for Father's Day: first month of use for free for all newcomers who pick the 2GB plan between June 14-20, 2018. The plan comes with unlimited minutes and free text included. The condition to grab the plan for free in the first month is to use the coupon code DADLOV3 in the checkout, when choosing this plan: https://tello.com/buy/custom_plans?plan=2000-unlimited
Starting the second month of use, the plan is $19/month, keeping the same unlimited number of minutes, the 2GB of data and the free text. Minutes can also be used for calls to Canada, Mexico and China. The ordering process is simple and to open the account is free, plus anyone benefits of the kind and responsive Support team all through the process, is it's the case.
For those thinking to switch their wireless carrier, this Father's Day deal is the best way to test a Tello plan as well as save big on one's domestic phone. To benefit from this offer one needs to be new to Tello and apply the coupon code DADLOV3 in the checkout of your purchase of the 2GB plan (unlimited minutes and free text included) between June 14-20, 2018 on Tello.com.
The great advantage is that there is no time-bound contract with Tello. Plus, the service is flexible in terms of payment methods and usage. Anyone can upgrade and downgrade their plan as often as they need to, without any penalties, according to their budget and volume of data, text and calls needed, considering the end date of their billing cycle.
Promos are a common on Tello.com. Besides lowering the rates in the past few months, both new & existing customers benefit of regular Facebook giveaways and email bonuses or discounts. To stay updated, subscribe to their newsletter, follow them on social media or blog: http://blog.tello.com/
Flexibility is the main hook. Those willing to try Tello plans for their domestic calls and/or cellular data can tailor their package on Tello.com according to their personal usage trends. They can pick from 10GB to no data at all, from unlimited minutes to no minutes at all. Whatever the plan they choose to go for, free text is included automatically as a bonus.
Deals start from $5/month and range up to $39/month, which is the cost of a plan that comprises 10GB of data plus unlimited minutes and text. In between, everyone can find the best personal option.
It takes few easy steps to open a free Tello account. Newcomers are welcome to keep their own number, bring their own mobile phone or check the phone deals on Tello.com for a new or refurbished one.
Many of those who switched to Tello in the past few months saw a big price drop on their cell-phone bill. That is why the US telecom market welcomed Tello so warmly two years ago.
This Sprint MVNO soon became popular among those who needed flexible cell-phone plans. Tello Mobile easily set a trend when it comes to:
-Custom-made plans
-"No fees whatsoever" policy
-Outstanding 24/7 customer service
-Free calls to Canada, Mexico & China included in any plan make Tello
-Flexible approach to custom plans
-Tethering and Voicemail for free.
-Massive price drops, one after the other. In the spring of 2018, Tello Mobile announced a new line up of lower and unbeatable prices on the market, next celebrated 2 years of happy customers and trustworthy mature service by hitting a 50% drop for any cell-phone plan above $10. And the story goes on.
Tello is a cell-phone plan and Voice provider operating on the USA market, best known for its economical custom-made plans and unbeatable prices. Tello.com is a KeepCalling brand, a global telecommunications company registered in 2002 in USA, providing international and domestic calls and other telecommunication solutions. Presently, KeepCalling provides its services to hundreds of thousands of consumers, with a focus on customer satisfaction. KeepCalling was listed by Inc 5000 as one of the fastest growing companies in the USA for 5 consecutive years.