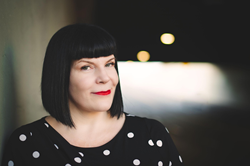 "...female founders receive less than 10% of all investment dollars in their companies. That is why I am thrilled to be a part of Four Female Founders (F3)" added Merlino, who will deliver the keynote address.
LONG BEACH, Calif. (PRWEB) June 11, 2018
FOUR FEMALE FOUNDERS (F3), is a proof of concept program committed to building up women in various organizations. The F3 initiative is a SEED FUND INITIATIVE and business mixer sponsored by Active Port with logistics handled by SparkiCreative - highlighting that with a level playing field, women can achieve the same level of success as their male counterparts in a mutually respectful and productive environment. The mixer is open to the public and will take place at the Hotel Maya, Miramar Veranda Room in Long Beach on Thursday, June 14 from 5pm to 10pm. 6:15 pm – special guest presentation, Nadya Ichinomiya; 6:35 pm – panel; 7:15 pm keynote address, Nell Merlino; 8:20 pm – demo, Daniel Wiener of Intralinks and networking.
RSVP here.
"It is no surprise that women are advancing in business around the world. We are creative problem solvers, innovators and good leaders," said Nell Merlino, creator of Take Our Daughters To Work Day, founder of Make Mine a Million $ Business and author of Stepping Out of Line. "However, what is a historically persistent problem is that women continue to make less money than men for equal work and female founders receive less than 10% of all investment dollars in their companies. That is why I am thrilled to be a part of Four Female Founders (F3)," added Merlino, who will deliver the keynote address.
Invited round table Panelists include: Stephanie Ardrey, Venture Finance & Author; Russell Brower, Composer, three-time Emmy winner; Heather Mason, founder of Caspian, event strategy agency; Kamin Samuel, Business Coach.
With the momentum the #MeToo movement has created, FOUR FEMALE FOUNDERS (F3), is committed to successfully bring awareness to the behaviors of people who disempower others, most notably those who sexually assault, degrade and disrespect people at work. F3 recognizes that there is a big picture and for now, the focus will be spring-boarding this movement to inspire more women to become founders – not just entrepreneurs and rise as leaders to inspire more leaders.
"Whether music, art, technology, engineering, science, ideas-- in all human endeavors consider we cannot afford to ignore any voice, much less greater than half the best minds on this planet," said Russell Brower, three-time Emmy award winning composer.
Invited special guest speakers confirmed to appear are Nadya Ichinomya, Director of IT and Enterprise Agile Transformation Director at Sony Pictures Entertainment, Daniel Wiener, Sales at Intralinks, Inc., and Lauren Vargas, the Director of Innovation, Delivery & Special Projects who is participating on behalf of the mayor of Long Beach, Robert Garcia.
ABOUT FOUR FEMALE FOUNDERS (F3)
FOUR FEMALE FOUNDERS (F3) is a springboard to fund the start-up and expansion of four woman-led initiatives and companies identified by Julie Fogg and the board of SparkiCreative in part, to create a funnel which will develop into an ecosystem of women building other women up. These founders include 1) Nell Merlino, creator of "Take Our Daughters to Work Day" and "Make Mine a $Million Business." Ms. Merlino is launching her new initiative called "Born Worthy;" 2) Anamiria Madrigal, Founder and President, Madana Inc. a tequila manufacturer and distributor; 3) Erika Steele, Founder Acceptance Alliance - an organization focused on many issues dear to Julie, especially artificial intelligence; and 4) Fourth Female Founder – there will be a surprise announcement at the mixer. For more information on the FOUR FEMALE FOUNDERS (F3) initiative, please email daniel@sparkicreative.org.
ABOUT ACTIVE PORT:
Julie Fogg, co-founder of Active Port established in 2002, is a company specializing in business communications technologies with a focus on business continuity. Julie is also the founder of SparkiCreative, a 501(c)3 supporting women, minorities and veterans with economic independence through soft skills, technical training and internships. Julie has been researching and working towards providing work experience and exposure to data science, big data and artificial intelligence since 2015, and felt founders need access to this kind of information and technology, too. Julie plans to work in partnership with SparkiCreative to launch similar seed fund programs for veterans and minorities once this initiative is adopted as a regular program. For Julie, FOUR FEMALE FOUNDERS (F3) – is a passing of the torch from Nell Merlino to Julie. Julie was in the second cohort of "Make Mine a $Million Business," Nell Merlino's second major disruptive movement after the wildly successful "Take Our Daughters To Work Day," which has supported over a thousand female entrepreneurs.
ABOUT INTRALINKS:
*Wholefoods used Intralinks in its acquisition by Amazon.com for $13.6 billion – the Professional Evolution of an organization. Visit: IntraLinks.com.