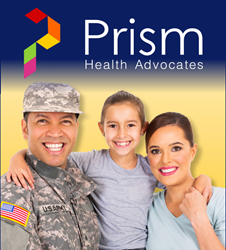 "It's Prism's turn to start fighting for them" – Debbie Bain
TAMPA, Fla. (PRWEB) June 12, 2018
Prism Health Advocates is now offering comprehensive health advocacy services to veterans across the Tampa Bay Area. A Prism health advocate can help veterans fill-out confusing VA paperwork, schedule physical exams, set-up appointments with specialists, apply for disability benefits and manage any of the pitfalls that come with seeking out care at the VA.
A health advocate serves his or her non-veteran clients by researching specialists, laying out treatment options in plain English, comparing pricing on medical procedures, negotiating down the cost of medical bills and setting up payment plans with healthcare providers. Prism's health advocates have a proven track record of saving their medical billing patients an average of 20% off their medical expenses. One Prism health advocate even saved a patient $57,000.
Seeing a need in the veterans healthcare industry, Prism has decided to expand its service offerings to veterans in an effort to help them access quality healthcare in a timely manner.
Prism believes that forcing veterans to wait months to receive healthcare services is unacceptable. A 2016 study released by the Government Accountability Office of 120 Veterans seeking healthcare at the VA found that depending on the facility the participants had to wait an average of 22 to 71 days from first contacting the VA to set up an appointment to actually getting in to see the doctor or specialist. These astronomical wait-times make it harder for veterans to address their basic healthcare needs, and it may also delay diagnosis and treatment of serious medical conditions.
Applying for VA healthcare benefits, filling out VA forms and applying for disability benefits can also be a taxing process for a veteran seeking out treatment at the VA. Prism's experienced health advocates know how to properly fill-out these types of paperwork and would be happy to walk veterans through this bureaucratic maze.
Deborah Bain, the founder of Prism Health Advocates, comes from a military family and attends a weekly online support group to help Veterans cope with medical and personal problems. "I am so happy that Prism's health advocates can now begin helping veterans in the Tampa Bay Area obtain the quality healthcare they deserve," Bain said. "Veterans have sacrificed so much to protect out country. Now it's Prism's turn to start fighting for them."
About Prism Health Advocates
Prism Health Advocates is a privately owned health advocacy firm that helps individuals and organizations navigate through the difficult process of researching doctors, comparing pricing on procedures, negotiating down the price of medical bills and setting-up payment plans for medical expenses. Debbie Bain, the founder of Prism, is a former trauma nurse who grew tired of seeing patients struggle with the high cost of healthcare and the knowledge barriers put up by the U.S. healthcare system. So, she decided to start her own firm to advocate for patients' physical health and financial well-being. Prism has experience serving the health advocacy needs of families, seniors, veterans, uninsured people and individuals with disabilities. The company also works with organizations to reduce health insurance costs using a combination of educational programs and health advocacy services. For more information, please visit https://www.prismhealthadvocates.com/.