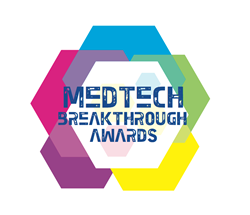 "Our mission to humanize healthcare has culminated in Cloudbreak delivering a true enterprise telemedicine solution to health systems" - Jamey Edwards, CEO, Cloudbreak Health
LOS ANGELES (PRWEB) June 11, 2018
MedTech Breakthrough, an independent organization that recognizes the top companies and solutions in the global health and medical technology market, announced that it has selected Cloudbreak Health's telemedicine platform as the winner of its "Best Videoconferencing Solution" award in the 2018 MedTech Breakthrough Awards program.
Cloudbreak Health is the leading provider of unified telemedicine software and services enabling specialties such as telepsychiatry, telestroke, tele-ICU, telesitting, and the company's award-winning Martti video medical interpreting service, to deliver vital resources to patients and providers on-demand – anywhere, anytime and on any device. The company has successfully exceeded 39 million minutes of consultation to over 2,500,000 people, making Cloudbreak one of the largest telemedicine platforms nationwide.
"With over 80,000 encounters per month at over 800 hospitals, Cloudbreak is a powerful leading force in the rapidly growing field of telehealth services," said James Johnson, managing director, MedTech Breakthrough. "With innovative solutions that unify all telemedicine specialties into a single, streamlined user experience, Cloudbreak removes healthcare barriers and resolves disparities throughout the continuum of care, significantly improving quality, satisfaction and outcomes."
The mission of the MedTech Breakthrough Awards is to honor excellence and recognize the innovation, hard work and success in a range of health and medical technology categories, including Robotics, Clinical Administration, Telehealth, Patient Engagement, Electronic Health Records (EHR), mHealth, Medical Devices, Medical Data and many more. This year's program attracted more than 3,000 nominations from over 12 different countries throughout the world.
"We are thrilled to be recognized with the 2018 MedTech Breakthrough Award for our pioneering work in healthcare," said Jamey Edwards, CEO, Cloudbreak Health. "Our mission to humanize healthcare has culminated in Cloudbreak delivering a true enterprise telemedicine solution to health systems, simplifying the delivery of care and allowing them to easily build and maintain relationships with patients wherever they may be seeking treatment."
About MedTech Breakthrough
The MedTech Breakthrough Awards program, part of the Tech Breakthrough Awards organization, is devoted to honoring excellence in medical and health related technology companies, products and people. The MedTech Breakthrough Awards provide a platform for public recognition around the achievements of breakthrough MedTech companies and products in categories including Patient Engagement, mHealth, Health & Fitness, Clinical Administration, Healthcare IoT, Genomics, Medical Data, Healthcare Cybersecurity and more. For more information visit http://www.MedTechBreakthrough.com.
About Cloudbreak Health, LLC
Cloudbreak Health is on a mission to #HumanizeHealthcare. From telepsychiatry, telestroke, tele-ICU, telesitting and other specialties, to integrated language services for Limited English Proficient and Deaf/Hard-of-Hearing patients (via its Martti platform, http://www.martti.us), Cloudbreak removes both distance and language barriers to improve patient care, satisfaction and outcomes. Cloudbreak's solutions include Cloudbreak Catalyst, its unifying, intelligent and private-labeled telemedicine software and workflow engine; Cloudbreak Connect, the nation's largest telehealth optimized fully private path broadband network; and Cloudbreak Collective, a collaborative marketplace allowing health systems and providers to share their centers of excellence with underserved communities. Performing over 80,000 encounters per month at over 800 hospitals, the Cloudbreak platform simplifies how providers care for patients, putting a full care continuum at their fingertips 24/7/365.
Learn more at http://www.cloudbreak.us or follow us on Twitter at the username @CloudbreakHLTH.