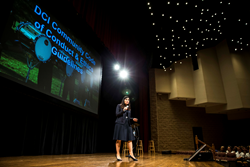 The Safety Summit was an incredible experience for everyone involved – bringing performers, staff, and volunteers together for live training on the critical subject of safeguarding against misconduct in all forms.
INDIANAPOLIS (PRWEB) June 11, 2018
Drum Corps International (DCI) underscored its commitment to participant safety on Saturday by conducting the first DCI Safety Summit through a live broadcast for all participating organizations across the country. The unprecedented event provided an opportunity for an interactive training on health, safety, and well-being for more than 8,000 performers, staff, and volunteers joining from around the country.
The collaborative training session focused on the recently adopted DCI Community Code of Conduct and Ethics Guidelines. The new code sets clear expectations for all participating organizations in DCI programs and activities while also promoting greater awareness and clarity of DCI's mission and values.
DCI Executive Director and CEO Dan Acheson began the event by reiterating the organization's mission of bringing "life-enriching benefits and enjoyment of marching music performing arts" to participants and audiences worldwide. He also shared DCI's strategic goals, explaining how all available resources must work together to maintain an atmosphere that "treats all with dignity, courtesy, attention, and appreciation," as stated in one of DCI's core values.
DCI Board of Directors Chair Kathy Black elaborated on DCI's shared goals of creating the safest possible environment and maximizing the DCI experience. She also outlined the principles of respect, expectations of respect, and prohibitions against specific behaviors.
Julie Miceli of the Chicago law firm Husch Blackwell then presented the main portion of the training – "Mutual Care & Respect: A DCI Community Forum" in which she expanded on DCI's core values, clarified individual expectations, and provided a full explanation of the new code and shared standards of conduct, professionalism, and civility. Miceli also defined the specifics of identifying, preventing, and addressing misconduct of all forms.
During the live session, participants joined in interactive text polls to express opinions on test-case scenarios to gauge appropriate actions and solutions for situations they might encounter. A question and answer segment also provided the opportunity for asking tough questions through email and getting real answers from Miceli and DCI executive leadership.
Acheson stated, "The Safety Summit was an incredible experience for everyone involved – bringing performers, staff, and volunteers together for live training on such a critical subject. It was encouraging to see the corps members, staff, and volunteers so engaged in discussing a difficult topic in a professional and forthright manner."
Black said, "I want to commend everyone in the DCI community for the tremendous work they are doing to ensure the safety of everyone associated with all of our activities. We are continuing to put multiple elements in place to facilitate safety at every level. This is truly a community issue with participant safety at the heart of everything we do."
The competition season opens with the DCI Tour Premiere on Thursday, June 21, at Ford Field in Detroit, Michigan – an event that will also broadcast live to nearly 500 movie theaters across the country. The DCI 2018 Summer Tour will then showcase nearly 100 drum corps and SoundSport teams competing in 115 events in 37 states culminating with the DCI World Championships at Lucas Oil Stadium in Indianapolis.
Acheson concluded, "Safety is our top priority as we prepare for the 2018 season. By working together, the entire DCI community will continue to enhance our safety practices in all forms and raise the bar ever higher for marching music performance."
Drum Corps International is the world leader in producing and sanctioning competitive events for the world's most elite and exclusive touring marching music ensembles for student musicians and performers. For additional organization details along with schedule and ticket information, visit http://www.dci.org.