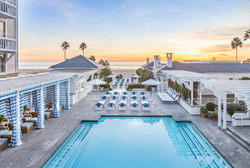 SANTA MONICA, Calif. (PRWEB) June 12, 2018
Acclaimed luxury seaside resort Shutters on the Beach debuts a new line of ultra-luxury facials at its celebrated ONE Spa in partnership with premier skincare brand, Biologique Recherche. The new facial treatment program will pair the French skincare company's highly personalized approach with ONE Spa's sought-after estheticians and seaside setting.
The Biologique Recherche methodology holds a reputation for astounding effectiveness based on a clinical approach to beauty care using intentionally pure, concentrated and raw ingredients as well as innovative and meticulous protocols and procedures. The French biological skincare line has over 40 years of experience in developing the most powerful skincare products in the beauty industry. The products, specifically the celebrated hero product, Lotion P50, are beloved by famed French women and the fashion industry alike and contain high concentrations of active ingredients, are fragrance-free. The extensive line is cold formulated in small batches at the Biologique Recherche laboratories on Champs Elysees 32 in Paris, France.
Introducing four specialized treatments tailored to target the unique needs of each guest, the facials gently improve the skin's balance and hydration while revealing a supple, radiant complexion:

Soin Restructurant et Lissant: Recommended for sensitive or stressed skin, this treatment employs hydrating, renewing and protecting properties as well as calming qualities.
Lift CVS: Recommended for normal skin, this treatment delivers a comprehensive anti-aging sequence that incorporates exfoliating, lifting, restructuring, firming, hydrating and protecting.
VIP O2 Oxygenating Treatment: Recommended for devitalized or stressed skin, this luxurious oxygenating and balancing ritual features a combination of micro-exfoliation and bio-energy massages that oxygenates the epidermis for a healthy glow.
Triple Lift Facial: Recommended for mature or maturing skin, this treatment redefines structure and facial volume with a revolutionary sequence that boosts cellular metabolism, gently exfoliates, rehydrates and tones the face, neck and décolleté, and dramatically reduces signs of aging.
Add-Ons: Guests can enhance any of the above treatments with a revitalizing collagen mask, energizing algae mask, toning and hydrating mask or regenerating and lifting treatment.
"Our goal is to provide guests with a customized facial experience with instantly visible results," says Rachel Stacy, Director of ONE Spa at Shutters on the Beach. "This exciting partnership will exceed our client's expectations with superior treatments that offer the best of all worlds – relaxation, a results-oriented experience, and dewy, summer-ready skin."
"We're thrilled to bring Biologique Recherche's state-of-the-art treatments and procedures to ONE Spa at Shutters on the Beach," says Dr. Philippe Allouche Co-Owner, Head of Creation of Biologique Recherche. "The affinity between the talented estheticians and our premier services will make for a truly incomparable spa experience in Santa Monica."
This partnership between the coastal spa's intimately indulgent facilities and highly skilled therapists with Biologique Recherche's remarkable skincare line provides the ideal venue for spa guests to receive a truly customized and results-oriented facial experience.
ONE Spa is a rejuvenating oasis set just steps from the surf of the Pacific Ocean. Featuring six treatment rooms, including two wet rooms with Shutters exclusive tropical rain showers, ONE offers guests a uniquely luxurious hideaway to relax and unwind for facials, massages, body scrubs, treatments, manicures, pedicures and waxing. The space was conceptualized by celebrated interior designer Michael S. Smith to embody the elements of the enviable Santa Monica seashore location with subtle tones of sand and sea, paying homage to the healing powers of the Pacific.
For further information, or to book a spa experience at ONE Spa at Shutters on the Beach, visit http://www.shuttersonthebeach.com, or call 310.587.1712.
About Biologique Recherche
Biologique Recherche is a premiere French brand that offers an extensive range of hyper-customized skincare products and treatments that are suited for both men and women's needs. Containing high concentrations of active
ingredients and free of fragrance, products are cold-formulated in small batches at the Biologique Recherche laboratories in Paris. For over 40 years, Biologique Recherche's unique methodology has built a strong reputation for astounding effectiveness based on a clinical approach to skincare, delivering immediate and long-lasting results. Biologique Recherche is the partner of choice in over 77 countries for exclusive medical spas and day spas in addition to the world's premiere hotel spas. For more information, please visit http://www.Biologique-Recherche.us.
About Shutters on the Beach
Both comfortable and luxurious, the acclaimed Santa Monica Beach hotel recalls the quintessential cottages of Cape Cod, with shuttered doors opening onto breezy balconies and a sun-drenched pool deck replete with chaise lounges. 186 gracious guestrooms and 12 suites showcase the residential-style designs of Michael S. Smith. On site, Shutters on the Beach offers market-fresh fare at 1 Pico restaurant and Coast Beach Café. Indulge in organic wellness rituals at ONE Spa and breathtaking panoramas of the Pacific from every vantage. For more information visit https://www.shuttersonthebeach.com.
About Edward Thomas Collection
The Edward Thomas Collection of Hotels was founded in 1982 by third-generation hotel and real estate investors Edward and Thomas Slatkin, whose family previously owned the legendary Beverly Hills Hotel. In 1994, Beverly Hills-based ETC opened exclusive Shutters on the Beach in Santa Monica. In 1999, after a $50+ million renovation, ETC opened a hotel with a history as Santa Monica's "Grande Dame," Hotel Casa Del Mar. Both members of The Leading Hotels of the World, the adjacent, sister and luxury properties are the only hotels in the Los Angeles area located right on the sand. ETC's management team includes Partners and Co-Founders Edward and Thomas Slatkin and President/Chief Operating Officer Timothy S. Dubois. For more information visit https://www.edwardthomasco.com.
ETC Press Contact:
Rachel Farnham – 310.453.2539 | rfarnham(at)murphyobrien.com
Michelle Noski – 310.717.6252 | mnoski(at)murhyobrien.com