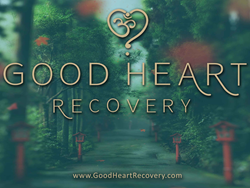 What we are doing here is not filling a need. It's filling a necessity. It's imperative that we heal the healers. Without a full circle of support for all in our community, the cycle of change and growth is stunted
SANTA BARBARA, Calif. (PRWEB) June 14, 2018
Like most other mental health and addiction rehabs, Good Heart Recovery, which opened in July of 2017, has a mission directed towards the healing of the clients which they serve.
However, unlike other mental health and addiction rehabs, Good Heart Recovery, a non-12-step rehab with an holistic and humanistic based outpatient treatment program, was created with an overall goal to heal not only their clients, but the Santa Barbara healing community at large.
A national committee formed of multiple mental health associations including the American Psychological Association and multiple other research studies have found that approximately 40 to 60% of clinical psychologists report having experienced depression symptoms and 18% reported having experienced suicidal thoughts (1). "It's clear that therapists and other mental health clinicians have less space to express their initial, and at times, long-term reactions to others pain," says Courtney Tracy, Good Heart's main founder and CEO, "Our work can be isolating and very non-reciprocal, depending on the work environment. These two scenarios alone, isolation and one-way healing, can cause an increase in depression and suicidal thinking. We want to change that, in our own work place, and in our Santa Barbara community."
Good Heart Recovery acknowledged this phenomena and immediately worked to implement an intervention to support mental health providers in their local Santa Barbara community.
Starting in October of 2017, their team of seasoned addiction and mental health rehab providers created a free monthly event called "KARMA Wednesdays: Healing the Healers". The sole intention of these meetings are for practitioners to be welcomed into a safe communal space where they can discuss the internal workings of their daily responses to trauma, discord, and the hidden pains of others. Lacee Dilmore, a licensed therapist and Good Heart Recovery's Clinical Director and co-founder shares, "These meetings are composed of a mindful and meditative coping exercise. Readings are provided to allow for insight and reflection on one's overall purpose as a healer and a group discussion surrounding how each clinician can support the other in times of distress is the highlight of our structure."
Following the recent deadly mudslides and California's largest fire in history, Santa Barbara's community of healers have created a safety net for all those affected by these recent disasters and Good Heart Recovery seeks to be the safety net of those healers.
In addition to providing a monthly healing service for the mental health practitioners in Santa Barbara, Good Heart Recovery was recently awarded recognition as a CAMFT-approved Continuing Education Provider through the CEPA program (2), a program which assists the Board of Behavioral Sciences in ensuring that all licensed and pre-licensed therapists and counselors have the most up-to-date trainings and teachings. Good Heart Recovery intends to begin providing free monthly educational boutiques for their local healers as soon as July 2018. "What we are doing here is not filling a need," states Courtney Tracy, "it's filling a necessity. It's imperative that we heal the healers. Without a full circle of support for all in our community, the cycle of change and growth is stunted."
Source:
https://goodheartrecovery.com/