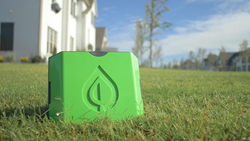 Control's easy to use interface will change the way that people interact with their sprinkler system, and is the first step towards a fully automated and water efficient yard.
DALLAS (PRWEB) June 12, 2018
Focused on changing the way that you manage your sprinkler system, Sprinkl has launched Control, its new smart yard hub. This 16 zone smart controller provides savings of up to 50% on your water bill through its real time weather features, but then pushes the technological boundaries of traditional controllers by acting as a true gateway to your yard. Some of the ways that Control differentiates itself from its competitors are:

Robust Design: A large enclosure with a magnetic cover provides for an easy install and plenty of room to hide all wiring while accommodating any pipes used to protect the wires. Real screw terminals also allow for testing connections during install.
Real Time Feedback: Utilizing in-app notifications, Control will keep you up to date on what is happening in your backyard. This not only includes scheduled runtimes or adjustments to the schedule based on weather events, as Sprinkl will monitor the state of your system and notify you of any electrical faults or issues during operation that would prevent a zone from operating.
Internal Memory & Real Time Clock: All scheduling features are saved directly on Control. This means that the scheduled watering times will be maintained through Wi-Fi failures or network issues.
Neighborhood Weather Networks: Sprinkl's app will allow you to share personal weather data with your neighbors. This creates a neighborhood network and allows each Control to take advantage of additional real time weather data and adjust or delay watering schedules as necessary.
No Scheduling Required: Once Control is paired with Sprinkl's moisture sensors (sold separately), you will receive real time soil moisture readings at multiple depths. Up to one sensor can be tied to each zone and based on the soil settings, Control will know how much to water each zone, and when the water is required. You will never have to question how long to run your sprinklers again. Sensors will be available in June of 2018.
The Brains of Your Backyard: Soil moisture sensors are only the beginning as Sprinkl has a whole pipeline of yard automation and smart accessories that will make managing your yard easier. These accessories include everything from flow sensors to smart power / lighting accessories that will work with Control and provide you information and tools right on your phone.
Designed and Assembled in the USA
For more information on Sprinkl's products, please visit the website at http://www.sprinkl.com or you may contact info@sprinkl.io.