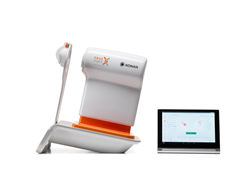 Nexy is a unique retinal imaging solution, high quality but value priced with telemedicine features.
IRVINE, Calif. (PRWEB) June 12, 2018
Available now, Nexy, is a new FDA 510(k) cleared, CE-marked retinal camera that features fully robotic operation resulting in remarkably clear and detailed retinal images. Designed for use in ophthalmology, optometry, hospitals, clinics and many other point-of-service locations, as well as screening environments, Nexy leverages innovative technology to drive a value-priced retinal examination in which a minimally trained operator can easily acquire images virtually hands-off.
Nexy is being used in Europe for diabetic eye-screening and other health-care initiatives to provide access to care in minimally served locales by way of an optional service in which an expert can "read" securely distributed images instantly with an opinion rendered electronically. This telemedicine feature may also be used to integrate with Artificial Intelligence, or "AI" processing engines to extract additional information from retinal imaging.
Nexy is developed and manufactured by Next Sight S.R.L. of Prodenone, Italy and is distributed in the USA excusively by Konan Medical.
"Next Sight is pleased at the very fast pace of receipt of the 510(k) clearance for Nexy and is excited to have Konan Medical as our exclusive distributor for the United States," said Paola Griggio, chief executive officer of Next Sight.
"Nexy is a unique retinal imaging solution that is high-quality, but value-priced," said Charles Stewart, chief executive officer of Konan Medical USA. "Nexy has developed remarkable interest in the very small exposure we have given to the market. Next Sight has provided a uniquely positioned, strong product for Konan to sell into the US."
Nexy will be featured at the World Ophthalmology Congress in Barcelona (June 2018) at the Konan Medical booth and was revealed at the ARVO (Association for Research for Vision and Ophthalmology) and ASCRS (American Society of Cataract and Refractive Surgery).
About Next Sight
Based in Pordenone, Italy, Next Sight is an ISO-13485 certified company that develops innovative, high-value retinal imaging systems for an expanding global distribution network.
For more information visit http://nextsight.info
About Konan
Headquartered in Irvine, California, Konan Medical USA Inc. is an ISO-13485 certified company that develops, sells, and services specialized diagnostic products for eye care clinicians, eye banks and other neuro-vision related specialties. The company also provides diagnostic equipment and support services to many of the leading ophthalmic manufactures in support of sponsored FDA clinical trials research globally.
For more information visit http://www.KonanMedical.com