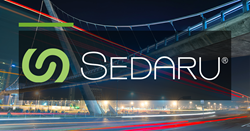 Sedaru Drives the Automated Utility, delivering value to our customers at every stage of their digital transformation.
ARCADIA, Calif. (PRWEB) June 11, 2018
IDModeling, the nation's leading provider of operations management and network intelligence software and services for water utilities, today announced the Company's rebrand to "Sedaru" (See Data Run). Sedaru advances the Company's vision with an aspiring outlook on the direction of today's utility industry, while aligning its mission with the most critical needs of today's utilities. Sedaru represents the organization, inclusive of Sedaru Software and Technical Services.
"Sedaru carries forward our modeling roots, into a new space for dynamic, integrated utility management for today's rapidly evolving utility enterprise. We're committed to deploying the latest proven technology, building upon our unique industry perspective, consistently investing in a premiere user experience to deliver what we've come to expect in software: real-time, anywhere-access of meaningful information that's enjoyable-to-use. We'll continue to relentlessly pursue growth, passionately working with our customers, partners, and industry to reimagine the modern utility."- Paul Hauffen, Sedaru President & CEO
The Company's vision is to enable every utility with data to run their business from an app, instead of paper – achieving operational excellence by saving time, resources, and rainforests. Sedaru operates the world's leading utility management software as the singular, exclusive interface for utilities to access information, automation, and control of the business and assets they run.
Sedaru Drives the Automated Utility, delivering value throughout the utility's digital transformation. Sedaru creates the digital enterprise with real-time GIS, CMMS, Field Mobility, Network Monitoring and Modeling, offering today's only turnkey utility management system. Sedaru automates workflows and unifies departments within one, easy-to-use app for operations management & network intelligence (OMNI™).
Sedaru delivers turnkey services to support every step of a utility's digital transformation. The Company has unified Sedaru software implementation with its hydraulic modeling services under one Technical Services group, creating the agility and power to deliver integrated or discrete solutions. Technical Services delivers business & IT consulting, with integration support for deployment and ongoing maintenance of the connected utility, as well as hydraulic model calibration, and model related studies such as master planning, asset and operational management plans.
About Sedaru:
Sedaru Drives the Automated Utility, delivering value to our customers at every stage of their digital transformation. Sedaru software and services create the digital enterprise with real-time GIS, CMMS, Field Mobility, Network Monitoring, and Modeling for the organization, offering today's only turnkey utility management system for the 21st-century utility. Sedaru automates workflows, extends the useful life of existing systems, and unifies disconnected departments within one, easy-to-use app for operations management & network intelligence (OMNI™). Learn more: http://bit.ly/2y03EV1
Press Contact: Dave Twichell: davetwichell@sedaru.com