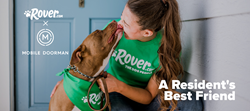 "We're excited to be partnering with Rover to provide pet-parent residents with discounted access to their wide breadth of pet services through our custom-branded app."
CHICAGO (PRWEB) June 12, 2018
Mobile Doorman, the industry-leading creator of custom-branded apartment apps for multifamily communities across the United States, announced today a new beta partnership with Rover, the world's largest network of 5-star pet sitters and dog walkers, connecting dog owners with trusted pet care whenever they need it.
As the Official Pet Services Partner of Mobile Doorman during the duration of the beta, Rover will provide unique perks for Mobile Doorman partner buildings, including special pricing on particular Rover services and promotions for new customers. Promotions will be made accessible through residents' custom mobile apps across select Mobile Doorman markets.
"Rover and Mobile Doorman share the goal of providing convenient and accessible services to customers, making this beta partnership a natural fit," said Kyle Roe, Director of Corporate Development at Rover. "Rover's breadth of services - boarding, walking, sitting, daycare, and drop-ins - will make the properties that use Mobile Doorman even more pet friendly while also making new pet ownership more accessible to residents."
Today's announcement addresses one of the highest priorities for apartment residents: their pets. Data from RentPath indicates that more than 65 percent of renters are pet owners. A pet-friendly community is also among the top amenities that renters look for when searching for an apartment home, according to RentPath.
"Our strategic partnerships are truly aimed at enhancing the living experiences of apartment renters," said Bob Matteson, Founder of Mobile Doorman. "Today's renter is evolving so it is vitally important our industry services, and how we communicate those services evolves, with them. We're excited to be partnering with Rover to provide pet-parent residents with discounted access to their wide breadth of pet services through our custom-branded app."
To learn more about today's announcement, you can meet Rover and Mobile Doorman at the upcoming 2018 Apartmentalize show, presented by the National Apartment Association, between June 14-15, 2018. Email will(at)mobiledoorman(dot)com to schedule an appointment during this week's conference.
About Mobile Doorman:
Mobile Doorman specializes in developing custom, white-label apps for apartment and condominium communities across the U.S. Our mission is to improve how residents interact with their properties with a convenient, user friendly tool that helps them live smarter while helping property owners manage better, improve retention, and boost their bottom line through nexgen technology. For more information, visit http://www.MobileDoorman.com.
About Rover
Rover.com® is the world's largest network of 5-star pet sitters and dog walkers. Rover connects dog owners with trusted pet care whenever they need it. Millions of services have been booked on Rover, including pet sitting, dog walking, in-home dog boarding, and doggy day care.
Rover believes everyone should have the opportunity to experience the unconditional love of a dog; Rover improves and simplifies life for dog people and the pets they love. As The Dog PeopleTM, Rover gives pet parents peace of mind whenever they're away from their dogs by offering the Rover Guarantee, 24/7 support, background checks, vet consultations, GPS walk tracking, and the nation's #1 pet sitting and dog walking app. And with Daily Treat—one of the nation's top dog blogs—Rover reaches millions of readers with tips and articles that delight, inform, and enhance the bond between people and their pets.