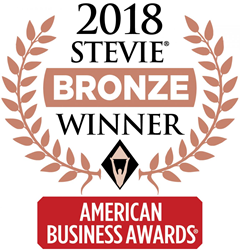 Support from Automated Business Designs continues to set standards for responsiveness.
CHICAGO (PRWEB) June 19, 2018
Automated Business Designs, Inc. (ABD), developer of Ultra-Staff staffing software, won a Bronze Level Stevie® Award during the 16th Annual American Business Awards®. The award recognized ABD for Customer Service Team of the Year in Computer Software.
The Customer Service Team of the Year award recognized ABD's talented team of Systems Engineers. The nomination detailed their dedication to the clients they serve. The team covers everything from training new clients, answering support questions, presenting webinars, writing user manuals, helping clients with changing federal requirements and navigating their year-end processes, and so much more.
Client testimonials were also used to show why the Systems Engineers deserved to be honored for their exceptional service.
One ABD client said, "Support from Automated Business Designs continues to set standards for responsiveness. That includes innovative solutions to unique implementations as well as near-immediate call-backs. The team is always ready whether it's an application support question or a systems implementation challenge – we depend on ABD Support."
"Over the past 30 years, we have been using ABD's software exclusively in both of our offices with great success. I must say that the support we have received from the entire team has always been timely and handled efficiently. I particularly enjoy the relationships we have established and the knowledge base they have always displayed. I can honestly say the ABD Support Team has never let us down in 30 years. They have one heck of a track record and have earned my gratitude many times over," said another ABD client.
The nominations were judged by professionals from all over the world.
One judge commented, "Impressive results and a culture of teamwork that has made an impact on customers."
"Great to see that a small yet established company is strong and providing great CS!" stated another judge.
The 2018 American Business Award winners were honored at a gala ceremony in New York City at the Marriott Marquis Hotel on Monday, June 11.
This is the second consecutive year ABD has been recognized by this prestigious program. Last year, the staffing software company took home awards for Company of the Year in Computer Software and the Vice President of Systems Engineering, Molly Nessinger, was honored with Product Management/Development Executive of the Year for Computer Software.
To learn more about Automated Business Designs and Ultra-Staff staffing software, visit http://www.abd.net. Details about the American Business Awards® and the list of 2018 Stevie® winners are available at http://www.StevieAwards.com/ABA.
About Automated Business Designs
Automated Business Designs, Inc. has been in business for 35 years, producing the staffing and recruiting software solution Ultra-Staff made specifically with staffing companies in mind. ABD offers a customizable staffing experience that benefits both clients and candidates through an integrated front office, back office, web suite, and mobile applications. With unique perspectives, in-depth staffing knowledge, active membership in the American Staffing Association (ASA), National Association of Personnel Services (NAPS), New York Staffing Association (NYSA), Minnesota Recruiting & Staffing Association (MNRSA), Wisconsin Association for Staffing Services (WASS), and board member status in the Illinois Search and Staffing Association (ISSA), ABD delivers hiring results from beginning to end.