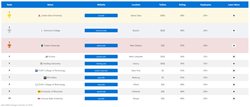 The list [of top web design & development bachelor's degrees] is largely made of schools which have been humbly providing this all-to-rare concentration.
SAN FRANCISCO (PRWEB) June 12, 2018
Many tens thousands of people around the world search for things like "How To Become a Web Developer" every month. The truth is that there are a number of ways to achieve that end-goal. Some teach themselves to code, other use online training programs, but very few find themselves getting a Bachelor's Degree for web-based programming. That is because it is actually rather difficult to discover which colleges even have such a degree, let alone, which ones are good. For that reason, 10 Best Design – an online publication which has been researching and writing about the web design industry for the greater part of a decade – put its staff to the task of create a list of the 10 Best Web Design & Development Programs with a full-Bachelor's Degree in that specification.
Including likely candidates such as Santa Clara University's Web Design and Engineering Major in the heart of Silicon Valley, the list is largely made up of schools which have been humbly providing this all-to-rare concentration to prepare students for jobs in an ever-growing field.
Simmon's College offers a Bachelor of Science in Web Design. Though the school is located in the Boston Area, another of America's technology hubs, the program is especially signficant as this #2 ranked college on the list is a women's-only school. Simmon's is not afraid to take on the stereotype of the male-lead industry of web development, and the achievement of this program is a testament to their commitment to STEM in general.
Schools like Tulane, Purdue, CUNY, SUNY, and Arizona State also made this year's feature, but a goal of the site's newest section is to show that these types of undergrad programs, focusing specifically on web design and development are worthwhile to the community. The hope is that perhaps as schools like Harding University, BYU Idaho & University of Wisconsin Oshkosh (also on the list) expand these efforts in their own way, it might inspire other universities and colleges to begin providing Bachelor's Degrees in this specialty too.
As one of the most well-established online industry magazines for the web design and development segment, 10 Best Design's team was particularly excited to research and produce this new featured segment for their publication which will soon cover additional program-types, including online degrees, self-taught programs, and even coding bootcamps.