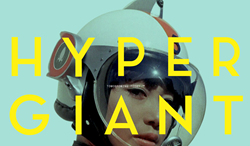 "The biggest challenges of AI won't be technology oriented problems-- the problems will be around the people who fund, develop, and support AI solutions in businesses," said Ben Lamm, CEO of Hypergiant.
AUSTIN, Texas (PRWEB) June 12, 2018
Hypergiant, the office for machine learning for the Fortune 500, today partnered with AI Global, a 501(c)3 non-profit organization spearheading responsible design of AI technologies, in a concerted effort to increase collaboration and discovery around Artificial Intelligence.
The AI Global partnership is part of a broader alliance of leading data, technology, and digital services companies. Other members of the coalition include CognitiveScale, Data.world, Charles Schwab, USAA, IBM, Microsoft and others in hopes to advance their common goal of greater collaboration around the adoption of responsible AI.
With AI on the cusp of massive adoption in business, the alliance represents the first cohort taking rapid action in creating a practical and sound foundation for AI-enabled business applications. As large stakeholders in global AI development, Hypergiant and AI Global are taking steps to build an open, collaborative learning hub of best practice and insight around this new technology.
"The biggest challenges of AI won't be technology oriented problems-- the problems will be around the people who fund, develop, and support AI solutions in businesses," said Ben Lamm, CEO of Hypergiant. "Together, AI Global and Hypergiant serve as a resource to corporations who are exploring how AI will transform business practices with openness and clarity."
Founded in 2017, AI Global is already taking huge strides in accelerating practical and responsible design, development, and use of artificial intelligence. With the mission of expanding AI opportunities while simultaneously reducing harm to local and global communities, AI Global is securing their name as an artificial intelligence leader.
Like Hypergiant, AI Global is catalyzing companies into integrating AI into their business structure, giving them the tools suitable for their industry. The implementation of correct data, models, skills, and agents will be incredibly beneficial in the emerging AI market.
With experience helping Fortune 500 companies navigate the AI landscape, Hypergiant aligns well with AI Global's mission of working to remove the daunting barriers that prevent companies from building responsible AI systems. Through collaboration with AI Global, Hypergiant hopes to spread their hard-learned lessons to software developers, data scientists, AI researchers, and product managers in creating ethical artificial and machine learning applications. Together, they are setting up influential companies for success while building an ever-advancing cycle of AI growth.
"Adoption of AI at scale will happen when people and businesses feel secure integrating human and machine intelligence to solve complex problems and power better experiences," said Manoj Saxena, Founding Board Member of AI Global. "The only way AI realizes its potential is through products and methods built with a 'People and Ethics First' Responsible AI design and full participation from every sector."
The alliance also announced the launch of the AI Marketplace to create a new level of openness in the industry. A first-of-its-kind initiative, the AI Marketplace is an online AI collaboration system that brings together high value industry data, and digital professional services to accelerate best practices on practical and responsible applications of AI technologies. The alliance and marketplace will enable the industry as a whole to innovate at a faster pace, unlocking the tremendous potential of AI powered self-learning business processes.
About Hypergiant
Hypergiant is the office of machine intelligence. We help the Fortune 500 innovate with breakthrough machine intelligence-driven technology products and space-age solutions. The space where impossibility intersects reality. Where companies speed beyond norms and realize an exploded potential. Where light filters out the dark. And machine intelligence makes everything about your business more intelligent. Leading brands leverage our platform products and advanced services to create powerful technology solutions and smarter, more efficient workforces. Hypergiant was founded by Ben Lamm, John Fremont, and Will Womble and is headquartered in Texas.
About AI Global
AI Global is a non-profit organization focused on responsible AI to accelerate practical and responsible design, development, and use of Artificial Intelligence to address the needs of businesses, communities and academia locally and worldwide. AI Global's mandate is to create a climate where local jobs, entrepreneurs, incubators thrive by integrating responsibly designed AI locally and worldwide. AI Global will also serve academia, policy makers, non-profits and business, to enable them to understand and prepare for the impacts of AI in society and the workplace. For more information, visit http://www.ai-global.org.