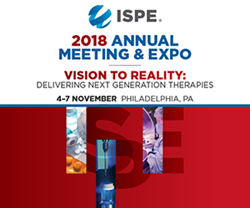 BETHESDA, Md. (PRWEB) June 13, 2018
The International Society for Pharmaceutical Engineering (ISPE) announced its keynote speakers for their 2018 Annual Meeting & Expo. Taking place in Philadelphia, Pennsylvania, November 4–7, keynote addresses will showcase global pharmaceutical industry leaders offering compelling and enlightening presentations on industry-critical technical developments.
Keynote Speakers:
Lars Fruergaard Jørgensen
President and CEO, Novo Nordisk, A/S Honorary Conference Chair
As Novo Nordisk moves toward a regulatory submission of its new oral semaglutide, Lars will offer his perspective on how to strive for leadership in diabetes management and simultaneously provide groundbreaking innovation in manufacturing.
Kirsten Lund-Jurgensen, PhD
Executive Vice President and President, Pfizer Inc.
Pharmaceutical manufacturing and supply organizations respond to high expectations from R&D and commercial organizations, regulators, and shareholders. Kirsten will discuss how Pfizer's global supply team manages these expectations, emerging technologies, and complex supply chains to deliver important medicines to patients now and in the future.
Nick Leschly, MBA
CEO, bluebird bio
Development and delivery of gene and cell therapies in clinical and commercial settings present new challenges for biotech companies and their partners, and new opportunities to innovate at all levels, including manufacturing. Nick's presentation will delve into the ways that companies can leverage in-house capabilities and strategic partnerships to deliver cutting edge therapies to patients with genetic diseases and cancer, and what's still needed in order to make these therapies widely available.
Becky Furata
Ambassador, Team Novo Nordisk Diabetes Cycling Team and Health Care Policy Consultant
The pharmaceutical industry's work has a major impact on the health and lives of patients who benefit from today's medicines. Becky will share her personal journey of living with diabetes and the possibilities that emerging therapies offer to enhance the lives of other patients.
The 2018 ISPE Annual Meeting & Expo delivers a broad spectrum of technical education for multiple levels of expertise across six tracks, five technical workshops, and more than 50 education sessions. In addition, an extensive Expo will showcase more than 300 companies offering advanced technologies and services.
To learn more about this event and to register, visit http://www.ISPE.org/Conferences/2018-Annual-Meeting-Expo.
About ISPE
The International Society for Pharmaceutical Engineering (ISPE) is the world's largest not-for-profit association serving its members through leading scientific, technical, and regulatory advancement across the entire pharmaceutical lifecycle. The 18,000 members of ISPE are building solutions in the development and manufacture of safe, effective pharmaceutical and biologic medicines, and medical delivery devices in more than 90 countries around the world. Founded in 1980, ISPE has its worldwide headquarters in Bethesda, Maryland USA, and an operations and training center in Tampa, Florida USA. Visit http://www.ISPE.org for more information.
For more information contact:
Maria Robertson
Senior Director, Marketing Communications
International Society for Pharmaceutical Engineering (ISPE)
Tel: +1-301-364-9207
Email: mrobertson@ispe.org
http://www.ISPE.org