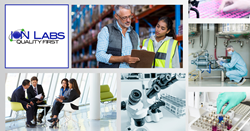 TAMPA, Fla. (PRWEB) June 13, 2018
Ion Labs has a passion for creating products for companies that are driven and goal oriented. A large portion of nutraceutical and dietary supplement brands are switching to Ion Labs as their key contract manufacturer for a number of important reasons. Businesses that are launching a supplement or product into a large retail venue, launching a product in a direct marketing space or selling product online need to focus their attention on marketing and sales. They should not have to worry about manufacturing complications or issues. This is where Ion Labs steps in.
They have a new (1-year-old) state-of-the-art manufacturing facility in Clearwater, FL that is conducting significant product runs in capsules, tablets, powders, liquids and their fastest growing segment – liquid capsules. Ion Labs provides the in-house knowledge and expertise required to alleviate any product production concerns. They are known for taking customers out of back order and problems with their current contract manufacturer.
Notable for being one of the largest and most accomplished manufactures in the world, Ion Labs makes the transition over to their operation effortless. Here are some of the main reasons businesses switch over to Ion Labs' quality manufacturing operation:

Current manufacture cannot handle volume
Experiencing consistent production delays
Does not have a proper in-house Quality Control department
Continues to rise product pricing
Does not have an in-house Research & Development team
Poor Customer Service
In poor standings with the FDA
Not NSF certified
Provides (if at all) an uneducated Label Control team
Once a customer, a client will have full service access to the following with Ion Labs:
First hand product consulting with the Research & Development team
Design and product messaging recommendations by the Marketing & Design team
Superior communication and operation updates from Sales & Customer Service
In-house laboratory product testing and analysis
Integrated fulfillment and shipping; private label dropship
Ion Labs has set their sights on creating long-lasting investments for their company. Dedicating a multi-year commitment to provide a quality first experience in all aspects of their operation to a client is their goal. Grow profitable and successful together. In 2018, Ion Labs also began to build out their private label catalog and brought in new raw materials to create custom dietary supplements, pet supplements, OTC drugs and skin care products.
Ion Labs has incorporated the following groundbreaking updates to their facility in order to be on the forefront of the contract manufacturing industry:
5 powder blenders ranging from 100kg to 9,000kg per batch
7 tablet presses (8 million tablets per shift)
7 double head encapsulation machines (8 million capsules per shift)
9 liquid capsule and capsule-in-capsule machines with banders
3 coating machines ranging from 120kg to 600kg per pan load
4 bottling lines (125,000 bottles per shift
1 automated powder filling line (30,000 bottles per shift)
10 powder blenders (ranging from 25kg to 9,000kg per batch)
Blister packing
Unit dose PVC vials
Automatic cartoning machines (bottles and blisters)
Shrink wrapping (bottles, trays, etc)
Shrink sleeving
Sachets (tablets/capsules [including multi-packs] and powders)
Stick packs
8 liquid/cosmetic mixing tanks ranging from 80 to 3,000 gallons
4 liquid/cosmetic filling lines (100,000 bottles per shift)
Ion Labs guarantees three main components to every client: transparency, trust and traceability. Transparency in their operations and communication. Trust in their methodology and experienced staff, and traceability in the high-quality products they develop and continue to test for stability year-after-year. When businesses decide to partner with Ion Labs and become a customer, they come on-board with the idea to recreate existing products from their already successful catalog and continue to create new products to build their portfolio.
Private label supplements along with custom supplement manufacturing are available with Ion Labs. Ion Labs is also one of the key private label skin care manufacturers in the USA.