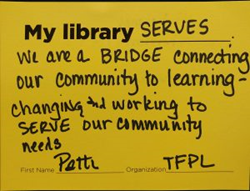 MADISON, Wis. (PRWEB) June 13, 2018
How would you finish this sentence? "My library ________." Librarians attending the 2018 ALA conference will have the opportunity to do just that when they stop by Demco Software's booth, #2846. We're asking librarians to share stories about how their libraries engage and make a positive difference in their communities.
Earlier this year, we offered attendees at the Public Library Association conference in Philadelphia the same opportunity to share, and we were so inspired by their stories. Every response gave a unique snapshot of the individual library and community it serves; however, several themes emerged, from community outreach, to programming for seniors, to acting as a safe haven when the community is in need.
Expanding Horizons: Helping People Learn and Grow
My library serves. We are a bridge connecting our community to learning — changing and working to serve our community needs.
My library engages. We provide space and resources to allow patrons to meet, create and explore!
My library connects new Marines with the world of libraries.
My library offers ease of access with Demco DiscoverMobile
Outreach: Meeting the Community Where They Are
My library bikes. We use our book bike for community outreach. It's loaded with technology so we can showcase it in our community. Our library also just installed a bike fix-it station out front!
My library reaches out. We do outreach at preschools, elementary and middle schools, YMCAs, and Headstarts and share program events with the local family shelter.
Providing Quality Programs for Adults and Seniors
My library works with our Council on Aging to bring fabulous authors to our town.
My library engages the community with a cookbook group. Patrons borrow a copy, select a recipe and get together to eat and critique.
My library helps by hosting and supporting a weekly Alzheimer's Support Group.
Demco Software provides software to libraries seeking new ways to engage their communities. The Demco Discover platform makes it easier to do everything from creating and promoting popular programs to sharing insights and meaningful outcomes – so libraries can drive their mission forward. Learn more at demcosoftware.com.
###
If you would like more information about this topic, please call Kayla Fargo at (608) 245-5300, or email kaylaf@demco.com.