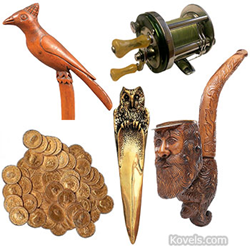 CLEVELAND (PRWEB) June 13, 2018
It's difficult to find the perfect gift for Dad, but to hunt for an affordable gift, the antiques experts at Kovels.com suggest checking local flea markets and antiques shops to find items that are "different" and collectible. Here are 5 ideas to get you started.
1. A fishing reel. A vintage fishing reel is a great gift for the angler in your family. This is a Shakespeare Marhoff GE baitcasting reel. In 1906, the Marhoff Reel Co. was granted a patent for an improved baitcasting fishing reel. The Shakespeare Co. began making the improved reels in 1907. This model was designed in 1946. Price: $109 in an online shop.
2. A letter opener. Letter openers have been used since the 18th century. Silver, bronze or ivory were favored by the well-to-do. They can be practical and simple, artistic or ornate, and a stylish addition to a desk or workspace. This c.1930 English brass letter opener in the shape of an owl is the perfect vintage accessory for a wise old Dad. It's 7 inches long and we found it in an online shop for $119.
3. A cane or walking stick. For the Dad who needs just a little extra support or wants to look just a little more dapper, how about a cool cane? The first cane was probably just a strong stick, but by the 19th century a cane was a fashion accessory and sometimes even hid a tool. The heads of canes were made of wood, ivory, gold or silver, leather, pewter or porcelain, sometimes with inlay and precious gems. This cane with a carved bird's head handle is made of maple is pictured in Kovels' Antiques & Collectibles Price Guide 2018 and sold for $885 at a Pennsylvania auction.
4. A paperweight. If your Dad is in banking or finance, this vintage paperweight in the form of a pile of gold coins may be just the thing. It was made by the Johnson Bronze Company of New Castle, Pennsylvania, and given as a promotion to customers. The fake coins depict presidents and captains of industry, some with quotes. On the back is an inset decal with the message, "Your friendship is more precious than a Pile O' Gold." It's 5 1/2 inches wide and sold for $48 at an auction in New Jersey.
5. A pipe. Does Dad enjoy an occasional smoke? Smoking accessories from pipes and humidors to cigar cutters and lighters are available in every price range. This beautiful folk art pipe, pictured in Kovels' Antiques & Collectibles Price Guide 2018, is carved to resemble a Civil War soldier with a bushy beard. It brought $660 at an Ohio auction.
As a special Father's Day gift to our readers, order Kovels Antiques & Collectibles Price Guide 2018 and get 3 free gifts: 1) Kovels Price Book 2018 companion eBook with all of the prices from the 2018 print edition right on your eReader, 2) a bookplate personally autographed by author Terry Kovel, and 3) a booklet on the "Top Ten Fakes that Fooled the Experts."
Terry Kovel is America's foremost authority on antiques and collectibles. She is the well-known columnist and author of more than 100 books on antiques and collecting. The 2018 / 50th anniversary edition of Kovels' Antiques & Collectibles Price Guide is currently available at Kovel.com and local bookstores. Terry Kovel will discuss antiques and collectibles topics with accredited media. Photographs are available. Contact pr(at)kovels(dot)com.
About Kovels.com
Kovels.com, created by Terry Kovel and her daughter, Kim Kovel, provides collectors and researchers with up-to-date and accurate information on antiques and collectibles. The company was founded in 1953 by Terry Kovel and her late husband, Ralph. Since then, the Kovels have written some of America's most popular books and articles about antiques, including the best-selling annual Kovels' Antiques & Collectibles Price Guide. The website, Kovels.com, online since 1998, offers more than a million free prices, and includes a free weekly email, "Kovels Komments." It gives readers a bird's-eye view of the market through the latest news, auction reports, a Marks Dictionary, readers' questions and answers and much more.