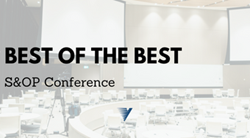 CARY, N.C. (PRWEB) June 13, 2018
Celebrating 11 years of gathering the brightest minds in the industry, APICS and the Institute of Business Forecasting Planning (IBF) are hosting The Best of the Best S&OP Conference from June 14-15, 2018 in Chicago, IL.
Experts across all industries plan to attend, with 16 influential speakers lined up. Sara Park, VP of Business Development at The Coca-Cola Company, is the keynote speaker. Others on the impressive list of speakers include:

Rizwan Asim, Supply Chain manager at Five Guys International
David M. Hovey, Director of Supply Chain at Hostess Brands, LLC
Greg Spira, Head of Forecasting-NA at Mondelez International
If you plan to attend, stop by our booth to see how industry leaders leverage Vanguard IBP to support their S&OP process. We pride ourselves on uniting roles, teams, and departments by delivering the sharpest forecasting within Supply Chain Planning, Integrated Business Planning (IBP), and S&OP Process.
Attendees will learn how to:
Effectively use forecasting and demand planning in the S&OP process
Employ integrated business planning techniques
Enhance collaboration across sales, marketing, finance, and supply chain
Extend S&OP outside your organization and throughout the supply chain
Manage and mitigate risk
Use S&OP to enhance new product launches
And more!
About APICS
APICS is the premier professional association for supply chain and operations management, and the leading provider of research, education, and certification programs that elevate supply chain excellence, innovation, and resilience.
About the Institute of Business Forecasting & Planning
IBF is a membership organization recognized worldwide as the premier full-service provider of demand planning, forecasting, business analytics, S&OP education, bench-marking research, training, certification, world-class conferences, and advisory services.
About Vanguard Software
Vanguard Software introduced its first product for decision support analysis in 1995. Today, companies across every major industry and more than 60 countries rely on Vanguard Software's Integrated Business Planning (IBP), forecasting, and advanced analytic cloud platform. Vanguard Software is based in Cary, North Carolina.