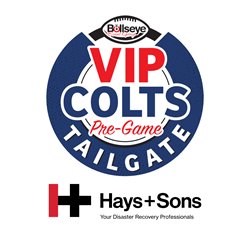 "We feel that the wonderful people at Hays and Sons fit so perfectly with what we're trying to accomplish, and we couldn't be more excited about having Jacob and the team on board." - Kyle Kinnett, CEO, Bullseye Event Group
INDIANAPOLIS (PRWEB) June 12, 2018
Bullseye Event Group is excited to announce Hays + Sons, the official restoration company of the Indianapolis Colts, as the official title sponsor of the company's signature Colts VIP Tailgate events.
The Colts VIP Tailgate presented by Hays + Sons has earned the reputation as being the best pre-game experience in the NFL, combining a culinary experience, sports, and the classic tradition of tailgating into one tremendous hospitality experience of a lifetime.
"Having Hays and Sons as the title sponsor of our Colts VIP Tailgate gives us the opportunity to give back to the community in some unique ways that we will announce throughout the season," said Kyle Kinnett, CEO of Bullseye Event Group. "We feel that the wonderful people at Hays and Sons fit so perfectly with what we're trying to accomplish, both with the Colts VIP Tailgate and at our amazing new facility downtown, and we couldn't be more excited about having Jacob and the team on board."
As part of a brand new initiative, Hays + Sons is currently reaching out to local not-for-profit agencies to offer an opportunity to attend the Colts VIP Tailgate presented by Hays + Sons and an Indianapolis Colts home game.
"We're proud to be the Official Restoration Company of the Indianapolis Colts because we strive to be an integral part of the communities we serve," said Jacob Houk, president of Hays + Sons. "But there are a lot of folks in Indiana who have never been able to do attend a Colts home game…this partnership with Bullseye Event Group gives us the opportunity to do even more for the people and organizations we serve."
"The Colts are heading to Mini Camp to prepare for a great season because they're always striving to improve," Houk added. "At Hays + Sons, that's true for us as well. We're always looking for ways we can improve our customers' experience."
Located just a short walk from Lucas Oil Stadium, the Colts VIP Tailgate presented by Hays + Sons offers luxury and amenities not found at your grandfather's tailgate. A premium all-you-can-eat buffet, premium open bar options provided by Maker's Mark with top-shelf liquor, live on-location broadcasts from 1070 The Fan, visits from Indianapolis Colts cheerleaders, surprise guest appearances, a Microsoft gaming area with 10 Xbox One Madden NFL gaming stations, pre-game HDTV coverage and more.
Tickets for the Colts VIP Tailgate presented by Hays + Sons are all-inclusive and are just $80. Ticket + Tailgate combo packages are also available, with prices starting at $95, which include one (1) ticket to select Indianapolis Colts home games along with entrance into the Colts VIP Tailgate. For tickets and information, visit BullseyeEventGroup.com.
About Bullseye Event Group
The official events, travel and hospitality partners of the Indianapolis Colts, Detroit Lions and New Orleans Pelicans, Bullseye Event Group has earned a reputation as being an industry leader in event hospitality prior to some of the biggest sporting events in the United States. Bullseye Event Group is also the exclusive hospitality partner of StubHub Live. Best described as "culinary events," Bullseye's official VIP events offer the opportunity to both see and be seen by some of the biggest names in the entertainment and sporting industries.
Bullseye Event Group offers fans VIP experiences as a secure, official source of travel, hotel, pre-game parties and game tickets. Bullseye is a direct and dependable source for tickets to the Colts VIP Tailgate presented by Hays + Sons, Super Bowl LII Travel Packages, the 2018 Players Tailgate at Super Bowl LII, Gate 6 Hospitality at The Masters and more. To learn more about Bullseye Event Group, visit BullseyeEventGroup.com.
About Hays + Sons
Hays + Sons has provided restoration service to over 40,000 businesses and residents in the state of Indiana for more than 35 years, since Charles Hays and his two sons, Mark and Brian, opened the doors at Hays + Sons in June,1982. Hays + Sons has a team of certified professionals who specialize in water restoration, fire restoration, mold remediation, and personal property cleaning.
Headquartered in Indianapolis, Hays + Sons also has local offices in Lafayette, Crown Point, Fort Wayne, Muncie, Columbus and Cincinnati to serve customers in those areas. Hays + Sons' mission is to serve their customers during their time of need with integrity and a commitment to excellence. For restoration done right, call Hays + Sons at 800-536-4056.