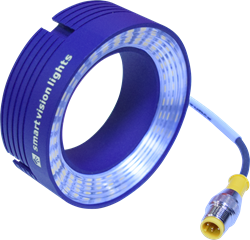 MUSKEGON, Mich. (PRWEB) June 26, 2018
Smart Vision Lights, a leading designer and manufacturer of high-brightness LED lights for industrial applications, is pleased to introduce the RMX75 miniature ring light.
Offering an ideal working distance of 100–500 mm, the RMX75 is specifically engineered for radial and bright field applications. The light's silicone lens provides an extra-tight seal and IP65 rating. Unlike glass and plastics, silicone won't yellow, craze, or react to UV light. Additional benefits of silicone include a lack of chemical reactivity, robustness in harsh environmental conditions, and high transmission from 365 nm (UV) to 2000 nm (IR).
Like the original RM75, the RMX75 features 72 high-output LEDs, overcurrent protection, and a built-in Multi-DriveTM controller, which allows the light to operate continuously or in OverDriveTM strobe mode. The 1–10 V analog control line offers total intensity control, and the unit's built-in driver regulates its current and duty cycle to prevent excessive heat.
To facilitate fast installation and integration, the RMX75 includes four T-slots, an optional camera adapter, and a standard 5-pin M12 connector. Designed for use in a variety of markets and industries, the unit is CE RoHS-– and IEC 62471–compliant.
For more information about SVL's RMX75, RM75, and RM140 series of miniature ring lights, visit smartvisionlights.com/products/mini-ring-lights.
About Smart Vision Lights
Smart Vision Lights (Muskegon, Mich.) is a leading designer and manufacturer of high-brightness LED lights for industrial applications, including machine vision. Smart Vision Lights products come with universal internal current-control drivers, offering constant or strobed operation, reduced wiring requirements, and easy installation. Smart Vision Lights products are also the safest on the market thanks to the company's in-house IEC 62471 light-testing laboratory, guaranteeing conformity and compliance for your lighting systems, regardless of where they are installed around the globe. Learn more at SmartVisionLights.com or by calling (231) 722-1199 in the U.S.