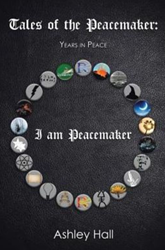 WACO, Texas (PRWEB) June 18, 2018
A Waco author has released the third novel in her "Tales of the Peacemaker" series that homes in on lessons about being a kind, honest and compassionate human. "Years in Peace" is an inspiring fictional story of the Peacemaker, a female King with magical powers, that takes readers on her miraculous journey.
In the book, the Peacemaker details the importance of forming alliances with others to create a larger bond and reveals what she gained from the alliances she made.
"Magical people and creatures fill my mind and inspired me to write the "Tales of the Peacemaker" series," said Ashley Hall, "I want to share the importance of friendship and inspire young readers to be kind and compassionate to others."
"Tales of the Peacemaker: Years in Peace" will appeal to young adults who are interested in fiction novels, particularly containing limitless adventure and magical beings.
"Tales of the Peacemaker: Years in Peace"
By Ashley Hall
ISBN: 978-1-5434-4679-3 (hardback); 978-1-5434-4680-7 (softcover); 978-1-5434-4681-4 (eBook)
Available at Amazon, Barnes & Noble and Xlibris Online Bookstore
About the author
Ashley Hall has an associate degree in Business and enjoys reading and writing in her free time. She currently lives in Waco, Texas with her family. Years in Peace is the third novel in Hall's Tale of the Peacemaker book series. To learn more about the author please visit her website.
###
Review Copies & Interview Requests:
LAVIDGE – Phoenix
Rian Rosado
480-648-7554
rrosado(at)lavidge.com
General Inquiries:
LAVIDGE – Phoenix
Maggie Driver
480-306-6597
mdriver(at)lavidge.com