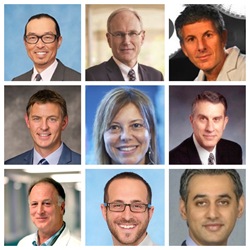 We are working with the best of the best. It does not matter how complex the case may be, when I consult with our scientific committee, I truly can offer our pets world-class treatment options based on individual needs. Dr. Pelosi said
JUPITER, Fla. (PRWEB) June 13, 2018
When you think of cutting-edge cardiac care, you might think of hospitals and training facilities in some of the most advanced institutions across the country.
When it comes to world-class veterinary cardiology and heart surgery, pet owners and veterinary thought leaders can now think of Jupiter, Florida, home of the North American Veterinary Heart Center (NAVHC).
"The services we offer go beyond simply caring for pets that are ill," said Giovanni Di Stadio, Co-Founder, President, and CEO of NAVHC. "We are teaming with some of the world's leading researchers, cardiologists, and surgeons to create the next generation of lifesaving protocols for the treatment of cardiac disease in pets," said Di Stadio.
Most of the advances in veterinary cardiology and heart surgery are created in partnership with human cardiologists and physicians. When it comes to veterinary cardiology and heart surgery, NAVHC offers unparalleled knowledge of the anatomy and physiology of pets. Combining this knowledge with the thought leadership of the Center's world-class scientific committee allows referring veterinarians and the Center's patients to take advantage of the most advanced cardiac thought leadership available in the veterinary industry.
At NAVHC, each patient, and their condition is unique. As such, patients receive a highly individualized set of treatment options to ensure the highest chance for a successful outcome. "A scientific committee of this stature is unprecedented and transforms the historical prospective within the veterinary cardiology and cardiac surgery profession," said Dr. Augusta Pelosi, the Center's Medical Director, and Co-Founder.
"Their minds, their working knowledge, and their cumulative experiences that span decades will help promote excellence in veterinary cardiology and cardiac surgery. Our scientific committee will build the foundation for the exchange of information, pushing the boundaries of knowledge between human and veterinary medicine benefiting both pets and humans alike", said Pelosi.
"We are working with the best of the best. It does not matter how complex the case may be when I consult with our scientific committee; I truly can offer our pets world-class treatment options based on individual needs," Dr. Pelosi said.
"Our scientific committee reads like a whos-who of cardiology, research and cardiac surgery experts from across the country," said Di Stadio.
Meet our current Scientific Committee members:

Richard W. Bianco, Professor, Department of Surgery at the University of Minnesota. He has more than 40 years of experience in the management of surgical projects and has authored journal articles and book chapters on the topics of animal model development and the assessment of new or modified medical devices with a major emphasis in the area of cardiovascular prostheses.
Martin Bocks, MD, Pediatric Cardiologist. Director of Pediatric Interventional Cardiology at UH Rainbow Babies & Children's Hospital in Cleveland and Associate Professor of Pediatric Cardiology at Case Western Reserve University School of Medicine. Dr. Bocks is board certified in Pediatric Cardiology and Adult Congenital Heart Disease. His clinical interests include transcatheter valve therapies and endovascular stenting in both children and adults with congenital heart defects. His research interests include pediatric medical device development with particular emphasis on bioresorbable technologies for cardiac catheterization procedures and wireless implantable pressure monitoring systems. In addition to Dr. Bocks's pediatric cardiology practice, Dr. Bocks's has developed several life-saving devices to monitor children with cardiac disease.
Steven F. Bolling, MD, Adult Cardiac Surgeon. Professor of Surgery in the Department of Cardiac Surgery at the University of Michigan. He joined the Cardiac Surgery facility at the University of Michigan in the mid-1980s and helped create and direct the multidisciplinary mitral valve clinic. In the world of mitral valve repair in humans, he is the go-to cardiac surgeon who regularly performs mitral valve surgery on patients from around the world. Dr. Bolling is the mind behind the creation of several devices to repair the mitral valve. He is a professor of surgery at the Department of Cardiac Surgery, Director of the Myocellular Biology Laboratory and Director of the Multidisciplinary Mitral Valve Clinic at the University of Michigan.
Edward Bove, MD, Pediatric Cardiac Surgeon, Chair, Department of Cardiac Surgery Helen and Marvin Kirsh Professor of Surgery, since 2005. Dr. Bove, M.D. is a renowned pediatric cardiac surgeon and an internationally recognized expert on the treatment of complex congenital heart disease. Over the span of his career, he has brought hope to children born with very advanced cardiac disease. When there seemingly was no future for them, he gave them a future through the gift of healing. A "rock star" in the paradigm of pediatric cardiac surgery, He has held many named lectureships here and abroad and given hundreds of presentations on heart surgery around the world. He has served on numerous committees including the American Heart Association, the Society of Thoracic Surgeons, the American Association for Thoracic Surgery, and the American Board of Thoracic Surgery.
Arthur H. Katz, MD, Adult Cardiac Surgeon, Dr. Katz is a board-certified adult cardiac surgeon practicing in Palm Beach County, Florida since 1994. His forte includes reconstructive surgery of the mitral valve, surgery of the aortic and tricuspid valves, off-pump (OPCAB, beating heart) bypass surgery, ablative surgery for artrial fibrillation, left ventricular reconstruction, and surgery of the aorta. He is affiliated with several Palm Beach County, Florida, hospitals, including Palm Beach Gardens Medical Center, Good Samaritan Medical Center and Wellington Regional Medical Center. Dr. Katz is a member of AOA, the Honor Medical Society and The Society of Thoracic Surgeons.
Richard G. Ohye, MD, Pediatric Cardiac Surgeon. Dr. Ohye is Professor and Associate Chair, Department of Cardiac Surgery, Head of the Section of Pediatric Cardiovascular Surgery and co-Director of the University of Michigan C.S. Mott Children's Hospital Congenital Heart Center. He represents excellence in pediatric cardiac surgery. His surgical skills are exceptional, and he can successfully restructure abnormal hearts, providing children the gift of life. Dr. Ohye is the study chair of a 15-center randomized trial comparing techniques for the Norwood operation for hypoplastic left heart syndrome, the first multi-institutional prospective trial ever performed in congenital heart surgery. He has a strong interest in innovative device development for pediatric patients with cardiovascular and respiratory disease and is currently involved with the development of several novel devices.
Augusta Pelosi, DVM, Veterinary Cardiologist and Surgeon, Medical Director and Co-Founder of North American Veterinary Heart Center. The only double board-certified veterinary specialist in cardiology and surgery in the world. Dr. Pelosi is a Diplomate of both the American College of Veterinary Internal Medicine-Cardiology (ACVIM) and Surgery (ACVS). She has taught veterinary students, interns, and residents for over 15 years, she has contributed to research advancement in cardiac surgery and has been actively involved in several leadership positions. Dr. Pelosi has also created and directed the Michigan State University – Veterinary Open Heart Team. She has dedicated her career to curing dogs with cardiac disease both medically, surgically and interventionally.
Jeffrey Zampi, MD, Pediatric Interventional Cardiologist. Dr. Zampi is the Director of Interventional Pediatric Cardiology at the University of Michigan Congenital Heart Center in Ann Arbor. As an interventional pediatric cardiologist, he performs cardiac catheterization procedures on infants, children, and adults of all ages. Dr. Zampi also is an intensivist in the Pediatric Cardiothoracic Intensive Care Unit, caring for children and adults before and after heart surgery. His clinical and academic interests focus on minimally-invasive procedures, especially in high-risk patients. These include hybrid procedures and fetal interventions, as well as transcatheter valve implantation in older children and adults. He leads several multicenter research projects to understand and improve the outcomes of patients with congenital heart disease.
North American Veterinary Heart Center is at 1680 S. Central Blvd., Suite 112, Jupiter, Florida 33458.
For more information, visit http://www.navetheart.com or call 561-250-6580.
About North American Veterinary Heart Center:
North American Veterinary Heart Center is the world's most advanced veterinary cardiology and heart surgery center offering an advanced portfolio of cardiology, heart surgery, and dental procedures for "high-risk" patients such senior pets or pets with underlying medical conditions. The center's medical director is Dr. Augusta Pelosi the world's only double board-certified veterinary cardiologist and heart surgeon. Located in Florida's biomedical hub of Jupiter, NAVHC provides easy access to international airports and welcomes pets and their families from around the world.
For media inquiries, telephone Jack E. Lighton at 561-386-8606.
Social Media Links: