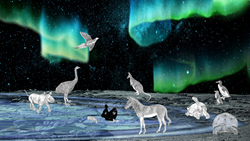 Like a mythical story, Allison's artwork guides us through scenes of conflict, magic, and evokes in viewers, the desire for a happy ending.
BOSTON (PRWEB) June 19, 2018
Boston Children's Museum will open the video installation, "Wish You Were Here: Greetings from the Galápagos," by Allison Maria Rodriguez on June 22. The exhibit is an immersive video installation combining digital animation, live action video, photography, collage, traditional drawing, and performance that explores climate change, species extinction, and the interconnectivity of all existence on our planet. The piece generates an experiential environment that navigates humanity's elemental connection to nature alongside our collective impact on the natural world.
The installation places the visitor within a magical realist landscape that activates a deeper form of connection with other species and our planet. The work makes reference to earth as a conscious being that experiences climate change as pain-impact in one area of the earth that creates a profound effect in another, illustrating human existence as directly linked to the survival of other species. The piece creates an alternative space – a space of meditation and reflection – providing the opportunity for an intimate moment that will encourage new thinking, conversations and perspectives regarding the relationship/responsibility we have to the Earth.
"Like a mythical story, Allison's artwork guides us through scenes of conflict, magic, and evokes in viewers, the desire for a happy ending," said Faith Johnson, Arts Program Manager at the Museum. "The beauty of our planet and its creatures that have become, or are soon to become, mythical through extinction are shown projected larger than life. The figure of the artist is seen traveling through each scene trying to figure out her role in the story. Allison's video invites visitors to feel immersed in and part of the phenomena and magic of the natural world. Her work seems to ask us: How will the story turn out? How can we help the earth and be a part of the living story of our home planet?"
Allison Maria Rodriguez is a Boston-based interdisciplinary artist working predominately in video installation and new media. Rodriguez's work has been exhibited internationally, throughout the country and extensively in the New England area, in both traditional and non-traditional art spaces. Some of her most recent projects include several large-scale public art video installations commissioned by Boston Cyberarts and the Massachusetts Convention Center Authority. Her work has recently been supported by grants from The CreateWell Fund, the Massachusetts Cultural Council, the Arlington Cultural Council, The Archie D. & Bertha H. Walker Foundation and Assets for Artists. Rodriguez is the winner of the 2017 Creative Climate Awards sponsored by The Human Impacts Institute for her video installation "Wish You Were Here: Greetings from the Galápagos". She was also recently awarded a 2018 Earthwatch Fellowship for a residency at the Churchill Northern Studies Centre to work on their "Climate Change at the Arctic's Edge" project.
Rodriguez received her MFA from Tufts University/The School of the Museum of Fine Arts and holds a BA in Language, Literature and Culture from Antioch College in OH, obtained also through study at Oxford University in England and Kyoto Seika University in Japan. She has taught courses in art theory and media production in a variety of contexts, from universities to children's museums. She is also an independent curator of local group exhibitions and participates in artist collectives such as the Boston LGBTQIA Artists Alliance (BLAA). Rodriguez has been an Artist-in-Residence at The Studios at MASS MoCA at the Massachusetts Museum of Contemporary Art, Arts Letters & Numbers, The Wassaic Project, the Dorchester Art Project (inaugural resident), and the Ragdale Foundation. She is a core artist at Fountain Street Gallery in Boston.
The video installation is scheduled to run June 22 – September 29.
For additional information, please visit http://www.BostonChildrensMuseum.org.
About Boston Children's Museum
Boston Children's Museum engages children and families in joyful discovery experiences that instill an appreciation of our world, develop foundational skills, and spark a lifelong love of learning. More information about Boston Children's Museum can be found at http://www.BostonChildrensMuseum.org. Become a fan of the Museum on Facebook and follow us on Twitter
Hours and Admission
The Museum is open daily from 10:00 a.m. – 5:00 p.m. Fridays until 9:00 p.m. Adults, $17, children (1-15) and senior citizens, $17; children under 12 months and Museum members are always free. Fridays 5:00 p.m. – 9:00 p.m., all visitors $1.
###