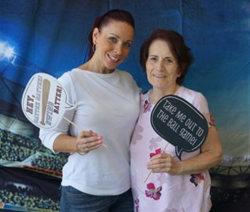 Through this event we recognize the tremendous efforts put forth by patients and their families as well as their treatment teams and the progress that is made in current treatment of cancer to restore health
NEW YORK (PRWEB) June 13, 2018
Queens Medical Associates, a preeminent blood disorders and cancer care facility, hosted a day-long celebration for its patients on June 11, one day after the official National Cancer Survivors Day. For the 12th year in a row, the office recognized and paid tribute to their patients battling and triumphing over the disease. The baseball-themed Strike Out Cancer festivities included:

Complimentary breakfast & lunch
Games & prizes
Gift bags for patients
Dance performance by the Corazón Peruano school
Mini beauty session
Photo booth
"We all know that having to live with cancer and to go through treatment is tough for patients and their loved ones. Positive emotions and joy are so invaluable during cancer treatment journey but sadly, are rare," explained Dr. Pavel Groysman, director of QMA's Supportive Oncology and Palliative Care program. "Today's event is the culmination of joy. Today we celebrate becoming healthy! Through this event we recognize the tremendous efforts put forth by patients and their families as well as their treatment teams and the progress that is made in current treatment of cancer to restore health."
At this time there are here are now more than 15 million cancer survivors living in the United States. Cancer survivorship isn't limited to statistics, trends and the number of years of life after diagnosis but more about the quality of life of the survivors and their loved ones. Queens Medical Associates is dedicated to helping all people, and especially its Queens patients, live longer, healthier lives through better prevention, detection, and treatment of all cancers.
ABOUT QUEENS MEDICAL ASSOCIATES
Queens Medical Associates (QMA) is a well-established physician practice and infusion center which provides hematology and medical oncology care for patients with cancer and blood disorders. Located in Fresh Meadows, New York, QMA's physicians and clinical staff bring decades of experience providing exceptional care and treatment. Approximately 300 patients are served daily translating into over 200 treatments. QMA's team members communicate in seven official languages (English, Spanish, Chinese, Korean, Russian, Hindi and Bengali). The practice also offers infusion therapy for many conditions including Crohn's disease, multiple sclerosis, rheumatoid arthritis, and organ transplants. For more information about Queens Medical Associates, visit http://www.queensmedical.com/.