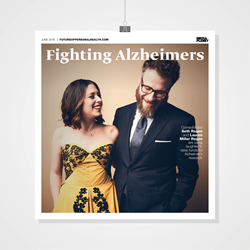 I've learned that I can do anything, but I cannot do everything.
NEW YORK (PRWEB) June 15, 2018
Launching during Alzheimer's and Brain Awareness month, Mediaplanet today publishes this June's "Fighting Alzheimer's" campaign. This publication will advocate for caregiver health as well as increased research on treatment, prevention and, ultimately, a cure for Alzheimer's disease.
According to the Alzheimer's Association, Alzheimer's disease is the sixth leading cause of death in the United States, with over 16 million Americans providing unpaid care for people with dementia. Featuring leading experts, influencers, caregivers and patients, this campaign will spotlight the amalgamation of perspectives in the fight for a cure. Through a series of inspiring and insightful editorials, this publication will reach caregivers to educate them on tips, resources and clinical trials available to them.
"I've learned that I can do anything, but I cannot do everything," says AARP's Family Caregiver Expert, Amy Goyer. In a frank Q & A on the interior of the print edition, Goyer empowers caregivers to seek support and balance their quality of life with the wellbeing of their loved one. The campaign also highlights the work of celebrity advocates such as Seth Rogen, Lauren Miller-Rogen and Maria Shriver.
The print component of "Fighting Alzheimer's" is distributed within the centerfold of today's USA Today edition in Atlanta, New York, South Florida, Los Angeles, Washington D.C. and Boston, with a circulation of approximately 250,000 copies and estimated readership of 750,000. The publication will be available at industry conferences, awareness walks and caregiver advocacy events across the country. The digital component is distributed nationally through a vast social media strategy and across a network of top news sites and partner outlets. To explore the digital campaign, click here.
This campaign was made possible with the support of the Alzheimer's Drug Discovery Foundation, UsAgainstAlzheimer's, AARP, Caregiver Action Network, CDC Healthy Aging Program, Always Discreet, U.S. Department of Health & Human Services, A Place for Mom, UnitedHealth Group, Dementia Spotlight Foundation, Home Instead, M3 Biotechnology, Alliance for Aging Research, Best Buy, Comfor Tek, Altoida, Voyager Therapeutics, Emory University, Miami Jewish Health, Project Lifesaver, Allergan, Axsome Therapeutics, EIP Pharma, California Table Grape Commission, IXICO, The Women's Alzheimer's Movement, Hilarity for Charity, Johns Hopkins' Memory and Alzheimer's Treatment Center, Seth Rogen & Lauren Miller-Rogen, Maria Shriver, Sharon Hall and Teepa Snow.
About Mediaplanet
Mediaplanet specializes in the creation of content marketing campaigns covering a variety of industries. We tell meaningful stories that educate our audience and position our clients as solution providers. Our unique ability to pair the right leaders with the right readers, through the right platforms, has made Mediaplanet a global content marketing powerhouse. Our award-winning stories have won the hearts of countless readers while serving as a valuable platform for brands and their missions. Just call us storytellers with a purpose. Please visit http://www.mediaplanet.com for more on who we are and what we do.
Press Contact:
Maureen McCarthy
maureen.mccarthy(at)mediaplanet(dot)com
(646) 979-2836