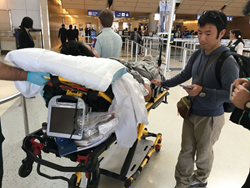 MONTREAL (PRWEB) June 14, 2018
"The acquisition of Parkview Airmedical and its integration into Skyservice Air Ambulance International offers our clients a one call solution for their air medical transport needs either via air ambulance or commercial air carrier. The Parkview Airmedical team that clients have come to love and depend upon will now become a vital part of our growing brand" said David Ewing, Executive Vice President, Global Markets.
Parkview Airmedical is now located within the air ambulance base of Skyservice Air Ambulance International at Toronto's Lester Pearson International Airport and soon will establish a base to service our francophone clients at our Montreal headquarters while maintaining a satellite base of operations in Tampa/Saint Petersburg/Clearwater Florida. This location offers our global clients a same day launch for their last minute commercial medical escort needs in Florida, Cuba, Caribbean and Mexico.
Skyservice Air Ambulance International is approaching its 30th year of operations from bases in Montreal and Toronto and offers Adult, Neonatal and Pediatric high acuity, highly specialized intensive care air ambulance services aboard its medically dedicated Learjet 45XR air ambulance fleet. Accredited by EURAMI, with its prestigious highest level of accreditation offered to a fixed wing air ambulance operator as well as licensed by the states of Florida and Nevada for air ambulance operations.