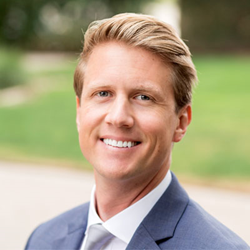 MISSION VIEJO, Calif. (PRWEB) June 14, 2018
Tinnelly Law Group, PC, one of the top California HOA law firms, is proud to announce the addition of attorney Tim D. Klubnikin, Esq. to the firm.
Mr. Klubnikin received his Juris Doctorate from Southwestern Law School. Graduating in less than 23 months, Mr. Klubnikin participated in the SCALE program, the nation's oldest 2-year J.D. program. He was also a Witkin Award recipient for academic excellence and was a teaching assistant for a Civil Practice workshop. Since law school, he has tutored students for the California bar exam.
The impressive speed and success with which Mr. Klubnikin accomplished his legal studies has carried over to his achievements during his legal career--the majority of which has been dedicated to the representation of HOAs across California including prominent high-rise condominium developments. Prior to joining the California HOA law firm, Mr. Klubnikin specialized in representing HOAs in the context of HOA maintenance, construction, and new development issues. Mr. Klubnikin's passion for teaching continues into his HOA practice, where he excels at informing and educating HOA boards and their community managers on the law governing their California common interest developments.
"Tim is another strong addition to our growing team of talented attorneys," says Managing Shareholder, Steven J. Tinnelly, Esq. "In addition to his wealth of experience in HOA matters, his extensive knowledge of HOA construction and new development issues provides a unique perspective on matters that many of our clients face. HOAs in California are growing in number, size and complexity. As a premiere HOA law firm, we understand the need to have a diverse team of exceptional attorneys who can add value to our clients in multiple ways and in a broad spectrum of issues. Tim is no exception. We are thrilled to have him on the team."
About Tinnelly Law Group
Tinnelly Law Group, PC is recognized by the community association industry as one of the top California HOA law firms. Since the firm's founding in 1989, 100% of its efforts have been dedicated to representing HOAs and providing them with sensible and cost-effective solutions to their diverse legal problems. It counsels hundreds of HOAs throughout California through legal issues related to corporate governance, enforcement, maintenance, insurance, litigation and transactional matters. Tinnelly Law Group recently launched FindHOALaw, a robust resource for HOA law and legal information. Its substantial volume of content and easy-to-use interface help users better understand the unique body of law governing HOAs in California. Tinnelly Law Group also provides its clients with access to comprehensive assessment collection services through the use of its affiliate, Alterra Assessment Recovery. Tinnelly Law Group has offices in Orange County, San Diego, Riverside County, Los Angeles, and the San Francisco Bay Area. Member CAI and CACM.