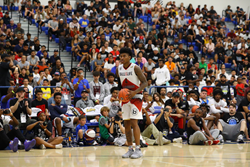 ...our partnership with Ballislife is special because it truly connects our brand with today's athletes in new and experiential ways.
IRVINE, Calif. (PRWEB) June 14, 2018
It was only fitting the largest viewing audience in the history of the Ballislife All-American Game witnessed the first overtime game in the event's eight-year history, as Team Future defeated Team Elite, 146-143. Team Future overcame a 10-point, fourth quarter deficit to force overtime and earn the win. Complete coverage of the event has been viewed over 24.1 million times.
The 2018 Ballislife All-American Game was live streamed on Facebook Live, YouTube.com and Twitter.com and is the most watched game in the event's history - with over 276,000 people tuning in for the full broadcast. Future growth is expected as the Ballislife brand and event's prestige continues to grow. Fans engaged with the game nearly 3 million times, an increase in engagement over 75% from 2017.
Total watch time of all coverage was over 47.5 million minutes - which is nearly 33,000 days or over 90 years of content consumed! This amounted to over 189 million impressions.
The broadcast version of the game aired on Spectrum SportsNet (Lakers Channel) May 10 and is to be replayed 12 times during the month of May and June.
The game has not only grown in popularity and prestige, but in client engagement. This year, athletic supplier giant Eastbay provided the participants with unreleased shoe models from popular shoe brands and created a personalized locker for each participant.
"Eastbay has always had history in basketball, but our partnership with Ballislife is special because it truly connects our brand with today's athletes in new and experiential ways," said John Shumate, vice president of marketing for Eastbay. "Many of these players have grown up with the Eastbay catalog. Now, we're maximizing this partnership to further connect them with our digital and social community, to inspire the next generation of Eastbay athletes and Ballislife All-Americans."
From its humble beginnings in 2011 when event organizers scrambled to get local stars to participate and a few hundred people in the stands, 2013 marked the first time the game was streamed online and the following year it was nationally televised. The 2018 Ballislife All-American Game has been viewed by hundreds of thousands of fans around the world and the sold out audience at Cerritos College included Trae Young, the college sensation from Oklahoma who will be a lottery pick in the 2018 NBA Draft. Since its inception, the game has produced 13 NBA first round draft picks, including the Utah Jazz' Donovan Mitchell and the Los Angeles Lakers' Lonzo Ball. That number is expected to double in the next two years with players such as Young, Mo Bamba (Texas) and Collin Sexton (Alabama).
"We're excited to partner with sponsors such as Eastbay to produce the most exciting high school basketball all-star game in the country," said Ballislife President Matt Rodriguez. "Not only are we delivering more fans an exciting game on new age consumption platforms, our sponsors help us create a better participant experience each year."
Read the full recap and watch the full 2018 Ballislife All-American game here.
The 2019 Ballislife All-American game will be the 9th annual game and is tentatively scheduled for May 2019.
About Ballislife
Created in 2005 as a brand highlighting basketball players on its platform, Ballislife has grown from a "Mixtape" outlet to respected basketball apparel, media and event management company. In that time, the Southern California-based company has covered nearly every major high school and grassroots basketball event and today produces and shares content frequently featured on top news websites such as the New York Times and television shows such as ESPN's SportsCenter. Ballislife's social networks are followed by millions of fans and its content has produced over 500 million views on YouTube and another 25 million annually on Ballislife.com. Its website is home to the respected FAB 50 National Team Rankings (which have been produced since the 1987-88 season) and the company has created and executed events such as the annual Ballislife All-American Game, Ballislife Jr. All-American Camp, and Eastbay Funk Dunk Contest.
About Ballislife All-American
The Ballislife All-American Game was created in 2011 with the goal to bring a credible All-American type event to the West Coast with the goal of selecting the most deserving players regardless of geography, mainstream player rankings, or shoe affiliation. Past BIL A-A participants include NBA Rookie of the Year candidates Donovan Mitchell (Louisville) and Lonzo Ball (UCLA), NBA players Stanley Johnson (Arizona), Zach LaVine (UCLA), Tyler Ulis (Kentucky), Kelly Oubre (Kansas), Marquese Chriss (Washington), Tyler Dorsey (Oregon), Thon Maker (Milwaukee Bucks) and 2018 NBA Draft Lottery candidates Collin Sexton (Alabama), Trae Young (Oklahoma) and Mo Bamba (Texas). The alumni list also includes Isaiah Briscoe, Kevon Looney, Nick Johnson, Jabari Brown, Cliff Alexander, Christian Wood, Jordan Adams, Dwayne Bacon, Jalen Adams, Derrick Jones, Malik Beasley and more.
About Eastbay
Since 1980, Eastbay has been dedicated to providing high school athletes with the footwear, apparel, and equipment they need to take their game to the next level. As part of Foot Locker, Inc. (NYSE:FL), Eastbay is focused on serving athletes who know what it takes to win, both on and off the field, through its direct mail catalog and eastbay.com. Through product selection, insider knowledge, and a range of athletes and experts, Eastbay delivers the tools athletes need to win their style of play and post-game looks.