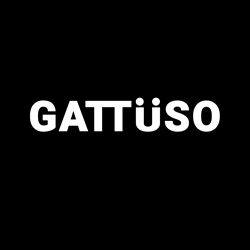 "Who We Are" was conceived with American FM radio in mind and pop radio's precisely where this song fits best.
NEW YORK (PRWEB) June 29, 2018
Delicious. Essential. Alluring. Rarely does a new artist manage to create a timely pop song capable of breaking-through the barrage of new releases to enter the public consciousness. With GATTÜSO featuring Myah's "Who We Are," the impossible becomes not just possible, it becomes inevitable. GATTÜSO ft Myah's "Who We Are" (GATTÜSO Music) is out now.
"Who We Are" was conceived with American FM radio in mind and pop radio's precisely where this song fits best. With Myah's instantly catchy vocal hook to kick-off the song, it's as though time is running in reverse and you can't imagine life before this song existed. Myah's irresistible lead vocal gives way to a squeaky-sounding horn at the chorus, a signature sound that'll drive this song straight to-the-top. Expect this song to be everywhere this summer. "Who we are / I ask you why, why, why / Without a dream / Without a dream, dream, dream."
About GATTÜSO
GATTÜSO is comprised of Israeli DJ/producer, Reem Taoz, and American DJ/producer, Terrence "Steel" Oliver, with the duo now based in New Jersey. Long a lover of the high-quality electronic dance music brought to his family's nightclubs in the luxurious casinos of Lima, Peru, the young Taoz always knew he wanted to become an artist. Spending countless hours in the nightclubs where he soaked-up and studied the sounds that moved the dancefloors, Taoz's days were also filled listening to FM radio. Music seeped into his pores until its very essence drove him to want to create music himself. Known as "Steel" to friends and colleagues, Terrence Oliver has over 15 years of experience in the electronic dance music industry. As a highly respected producer, remixer and audio engineer, 'Steel' has established himself as a go-to collaborator sought by the likes of Wyclef Jean, Marley Waters, Kat DeLuna, Lil Jon and many others. As a duo, GATTÜSO was born of a burning desire to make dynamic music that inspires listeners to get up and dance.
About Myah Alanna
With more than 143,000 followers on her Instagram account (@myahalanna) and rapidly approaching 1 million YouTube views for her previous single, "Circus Freak," Myah Alanna Scavo, or simply Myah Alanna to her fans, is a New Jersey-based singer/songwriter with a stylish, sassy wit that knows no bounds. Though her fearless fashion sense is energized by youth, Myah's soulfulness as a singer emanates from a more mature, deeper place. The feeling she brings to GATTÜSO's "Who We Are" is undeniable.
Said GATTÜSO of the new single, "I wanted it to be authentic, fun and true. After the song was written and the music production began, I came across the music of Myah Alanna and thought she would be a perfect fit for the song. We're really happy about how this song turned out and we can't wait to share it with the world!"
Listen to GATTÜSO featuring Myah, "Who We Are," here: https://fanlink.to/gattusowhoweare
For information on GATTÜSO, Ice-T & Mr. X, Andrew Rayel, Paul Damixie, Fatum, MaRLo, Maro Music (Marek Walaszek), Ben Rauch, NKRIOT, Zander (Traveler), Alex Ariete, Brussels Airlines (proud partner of Tomorrowland), Finlay, and artists like Armin van Buuren, contact EMILY TAN Media Relations (U.S.), +1(917) 318-3758, EmilyEmilyTan@aol.com. Follow EMILY TAN Media Relations on Twitter @EmilyEmilyTan and LinkedIn http://www.linkedin.com/pub/emily-tan/4/342/70b.