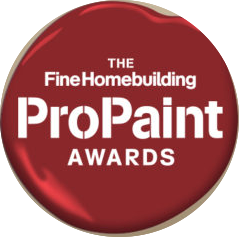 "This program is in alignment with our Keep Craft Alive mission, and it's a way for us to shine the spotlight on the industry's best, allowing them to inspire others, as well as benefit from national recognition of their work." -Rob Yagid, Fine Homebuilding
NEWTOWN, Conn. (PRWEB) June 13, 2018
Fine Homebuilding,® the trusted industry leader in providing residential building and design information for professional builders, architects, designers, and remodeling contractors, announces a new program to honor the craftsmanship and best practices of today's top professional painters. The first Annual Fine Homebuilding Pro Paint Awards has been established in partnership with Benjamin Moore as the exclusive sponsor. The competition features three categories for recognition. Winners will receive $5,000 in prizes and have their work showcased on Fine Homebuilding's multi-media platforms.
"We are committed to the professionals in this industry who not only excel, but take pride in their craftsmanship," says Editorial Director, Rob Yagid. "This program is in alignment with our Keep Craft Alive mission, and it's a way for us to shine the spotlight on the industry's best, allowing them to inspire others, as well as benefit from national recognition of their work."
HOW TO ENTER
From now through July 25, 2018, visit: http://www.FineHomebuilding.com/ProPaintAwards and complete the required fields in the entry form. Plus: Submit a photo (or photos) and a description of your best paint project. Indicate which one of the three categories listed below your entry best fits:

Master Painter
Best Transformation
Best Historic Preservation
You may also nominate others for entry into this contest by providing your information, and the information of the person you are nominating, on the entry form. Indicate that you are entering a photo(s), a description of another person's work, and the category for consideration in this contest.
WINNERS AND PRIZES
Winners will be selected in partnership with Benjamin Moore and showcased in a co-branded online gallery on the Fine Homebuilding® website. The Winners Announcement will also feature the following components of a co-branded promotion:
Awards will be showcased in Fine Homebuilding's print, digital, and social media channels to celebrate the winners' work and craftsmanship.
The Master Painter Award winner will receive $2,000 worth of Benjamin Moore Paint or Supplies
The Best Transformation Award winner will receive $1,500 worth of Benjamin Moore Paint or Supplies
The Best Historic Preservation Award winner will receive $1,500 worth of Benjamin Moore Paint or Supplies
See Contest Rules for full details at http://www.FineHomebuilding.com/ProPaintAwards.
Publisher Renee Jordan adds, "For over three decades, Fine Homebuilding has advocated the pursuit of excellence in craftsmanship within home construction and remodeling disciplines. We are pleased to present this opportunity now, in partnership with Benjamin Moore, to celebrate and reward that achievement in quality among painting professionals. Both Fine Homebuilding and Benjamin Moore share the commitment to support the industry through skill development, showcasing quality performance, and honoring professionals who demonstrate leadership and distinction through their work."
About Fine Homebuilding
Fine Homebuilding® is the most trusted and authoritative resource for the residential construction and remodeling community. We uniquely source our content from the job sites and design offices of the most qualified and talented builders and designers in the industry to empower a global workforce with the ability to create the most advanced homes possible. Driven by the ethos that exceptional homes are possible and that craftsmanship is an honorable and worthy pursuit, Fine Homebuilding® has become the brand for skilled practitioners, deeply knowledgeable enthusiasts, industry influencers, and forward-thinking companies who are collectively committed to shaping the way we build.
About Benjamin Moore
Founded in 1883, Benjamin Moore is North America's favorite paint, color and coatings brand. A leading manufacturer of premium quality residential and commercial coatings, Benjamin Moore maintains a relentless commitment to innovation and sustainable manufacturing practices. The portfolio spans the brand's flagship paint lines including Aura®, Regal® Select, CENTURY®, Ultra Spec®, Natura® and ben®. Benjamin Moore is renowned for its expansive color portfolio, offering consumers and designers more than 3,500 colors. Benjamin Moore paints are available exclusively from its more than 5,000 locally owned and operated paint and decorating retailers.