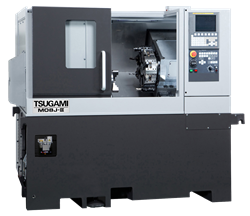 WINDSOR, Conn. (PRWEB) June 13, 2018
Tsugami/Rem Sales, the exclusive North American importer of Precision Tsugami machine tools, announced today its newest machine offering; the Tsugami M08J, an incredibly rigid 2-axis turning center with a manual tailstock, programmable quill, and A2-6 spindle nose.
"The addition of the Tsugami M08J to the Rem Sales Universal Product Line offers the increased options and flexibility that we pride ourselves on," explained Michael Mugno, Vice President, Tsugami/Rem Sales. "The M08J is undeniably the most rigid 2-axis lathe in its class and is a great fit for most every machine shop."
The Tsugami M08J CNC Lathe features a rigid construction using boxed ways for the X-axis with oversized linear guides for the Z-axis for heavy-duty machining. Thermal displacement compensation comes standard on the M08J, which allows for the highest level of machine accuracy by measuring the thermal displacement using the touch sensors installed on the X-axis slide. All of this is packed into a conveniently small footprint – 67 inches x 66 inches x 63 inches.
The Tsugami M08J is the perfect lathe for a number of applications such as turning, drilling, boring, and thread cutting.
Options for the Tsugami M08J include the addition of high pressure coolant, foot pedals, and a chip conveyor.
Overview of the Tsugami M08J:
8" chuck
8 station automatic turret
Manual adjust tailstock
Programmable quill
Part catcher w/ conveyor
Box way for X-axis slide
Roller guide for Z-axis slide
7,275lb massive construction
Fanuc 0i-TF control
Included Features:
3-jaw hollow 8" chuck
Parts catcher w/ conveyor
Work stopper
Tailstock w/ live center
Through turret flood coolant
Fanuc 0i-TF control
Thermal Compensation
For more information or a pricing quote on the Tsugami M08J, visit the "Machines" page at http://www.remsales.com or contact your local distributor.
About Tsugami/Rem Sales
Tsugami/Rem Sales (http://www.remsales.com) has been the exclusive North American importer of Precision Tsugami machine tools since 1978. A division of Morris Group, Inc. in Windsor, Connecticut, Rem Sales sells new Tsugami machine tools via national distribution channels and direct sales agents. Tsugami/Rem Sales also provides top of the line application engineering, service, and customer training.
About Morris Group, Inc.
Morris Group, Inc. (http://www.morrisgroupinc.com), one of North America's largest machine tool supply networks, owns fifteen independently operated business units. It supplies CNC machine tools and related technology and services to manufacturers representing virtually every industry segment. Morris Group, Inc. is headquartered in Windsor, Connecticut, home of its founding company, The Robert E. Morris Company, which has served the manufacturing industry since 1941.