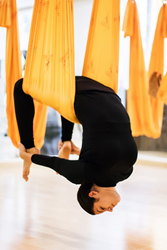 RIVIERA NAYARIT, Mexico (PRWEB) June 13, 2018
The "Beyond All-Inclusive, Beyond All Compare" Grand Velas Riviera Nayarit will host its annual Wellness Getaway from September 5th to 9th.  On tap are complimentary sessions led by industry leaders, a Medicine Reading Ceremony, Spa Atelier self-discovery workshops, juice therapy, Anti-Gravity Yoga, vegan cooking classes, and other mindful wellness activities. Instructor highlights include Joanne Encarnacion, a San Francisco-based health and wellness coach and blogger at GOFITJO, who will lead HIIT (high intensive interval training) workouts; and Nikki Sharp, a Los Angeles-based health coach, yoga instructor, vegan chef and best-selling author of Meal Prep Your Way to Weight Loss and The 5-Day Real Food Detox, that will lead a vinyasa yoga class and cooking demo on vegan sushi. Deborah Hanekamp, known as "fashion's favorite healer," will lead a Medicine Reading Ceremony, a full-sensory experience, combining sound and crystal healing, energy balancing, intuitive reading and spiritual guidance. A vegan menu with wine pairing; cacao ceremony; Kundalini yoga sessions led by Ana Paula Domínguez, founder and director of the Mexican Institute of Yoga; meditations; and tea tasting led by Olivia Medina, the first Mexican Tea Master, are also offered. In addition to the wellness activities available, guests can opt to stay in one of the resort's wellness suites designed to renew one's body and mind in every way possible with a plethora of fitness and wellness amenities. 
The resort's 1750 sq. ft. Wellness Suites are two floors, inclusive of a rooftop terrace with massage bed, chaise lounges and spacious Jacuzzi. On arrival to the suite, a personal Spa Concierge provides counsel on a wide-variety of available spa treatments – many with local influences in mind, health offerings at the resort, a special soap selection, and information on the wide variety of in-suite fitness amenities, which include an in-suite exercise kit comprised of a yoga mat, dumbbells, resistance bands, and even a Life Fitness Activate Series Recumbent Lifecycle® Exercise Bike. After the intro, guests are whisked away for a private insuite massage. When it comes time to lay down for the night, an Alchimia Apothecary Aromatherapy Kit with scents ranging from cedar and lavender to tangerine and myrrh affords the essential oils needed to experience total relaxation at night. An insuite sleep kit inclusive of Sacred Sounds for Sleep CD, Vibrant Nature Silk Eye Pillow, Deep Rest Aromatherapy Roll-On lotion, Restful Sleep bath salts and relaxing handcrafted soap helps relax guests and prepares them for a deep sleep.
Nightly rates start at $336 per person per night based on double occupancy at Grand Velas Riviera Nayarit. Wellness Suite Rates start at $425 per person per night based on double occupancy. Wellness Suites are for adults only. Guests staying at Casa Velas have access to Wellnessing Getaway for $100 USD per person per day, including all event activities and transportation between the two properties. Velas Resorts' all-inclusive rates include luxury accommodations, a la carte gourmet meals at a variety of specialty restaurants, premium branded beverages, 24-hour in-suite service, taxes, gratuity and more. For reservations or more information, please call 1-888-407-4869 or visit http://vallarta.grandvelas.com/.
About Deborah Hanekamp:
Mama Medicine is Deborah Hanekamp - "fashion's favorite healer" (Vogue Magazine). Mama Medicine facilitates Medicine Readings out of her Space in Soho, NYC. These ceremonies integrate over 17 years of experience and wisdom in the healing arts. Her work blends ancient knowledge from across a variety of traditions. At the end of every Medicine Reading Ceremony, Deborah prescribes a ritual bath. These beautiful baths (with flowers, crystals, and herbs), along with her unique aesthetic and approachable personality, have garnered Mama Medicine tens of thousands of global followers on Instagram. Her work has been featured in Vogue, New York Times, and Marie Claire. In a world of gurus and self-help, Mama Medicine helps us connect to the inner shaman within us all: the power of love.
About Joanne Encarnacion:
Joanne Encarnacion is a health and wellness coach empowering women to live their most authentic lives by defining health and wellness on their own terms. She is also the creator behind GOFITJO, a wellness blog boldly bringing light to all the raw emotions, authenticity, and rawness to a woman's journey seeking to redefine a healthy and happy life. Joanne Encarnacion uses her personal well-being journey to bring attention to the deep connection between our mental and physical health. The health coach shares her experience with anxiety and depression, and how for her, focusing on her physical health also meant improving her self-image.
About Nikki Sharp:
Nikki Sharp is a wellness expert and best-selling author of two books published by Random House: Meal Prep Your Way to Weight Loss and The 5-Day Real Food Detox. She is also a holistic health coach, yoga instructor, and vegan chef. What began as studying nutrition to overcome two eating disorders has led Nikki to helping hundreds of thousands around the world through her website and social media accounts. Sharp has been featured in Shape, Elle, Women's Fitness, Men's Health, along with Good Day LA, KTLA, Access Hollywood Live and Fox News, among many other magazines and TV shows.
About Grand Velas Riviera Nayarit:
The AAA Five Diamond Grand Velas Riviera Nayarit enjoys a privileged natural setting with flowering, landscaped gardens beside a long stretch of pristine beach and a dramatic backdrop of the Sierra Madre mountains. The centerpiece of the gardens is a three-tiered, multi-temperature infinity pool, a preferred spot for catching the legendary sunsets. The resort features 267 ocean-view suites, some with private plunge pools, and all with fully stocked mini bar, L'Occitane amenities and Nespresso machines. Wellness Suites include a personal training session and massage in-suite in addition to other fitness amenities, such as a Lifecycle Exercise Bike, organic soaps, Aromatherapy Kit, and more. Of the resort's five restaurants, three, serving French, Italian and Mexican gourmet cuisine, have received AAA Four Diamond awards for distinguished cuisine and presentation. An oasis of wellbeing, Se Spa offers 20 treatment suites, more than 30 spa treatments, many inspired by the native traditions of Mexico and a signature water journey. Other features include a fitness center, 24/7 in suite service, water sports, business center, tennis, baby concierge, Kids' Club, and state-of-the-art Teens' Club. The all-inclusive resort in the Riviera Nayarit features more than 25,000 square feet of indoor meeting facilities, including the Grand Marissa Ballroom, which consists of more than 6,000 square feet and is easily subdivided into five separate rooms. The resort's facilities also include four other rooms ranging from 681 to more than 1,954 square feet that offer several arrangement variations to maximize meeting productivity and efficiency. Things to do in Puerto Vallarta include water sports, exploring the lush jungle, visits to traditional villages and more. The resort has won numerous awards from Condé Nast Traveler, Travel + Leisure, TripAdvisor, U.S. News and World Report and Forbes, which named it one of the Top Ten Coolest All-Inclusives. Grand Velas Riviera Nayarit was built and is operated by Eduardo Vela Ruiz, founder and president of Velas Resorts, with brother Juan Vela, vice president of Velas Resorts, by his side.