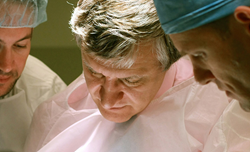 DALLAS (PRWEB) June 14, 2018
Dallas plastic surgeon, Dr. Rohrich, was invited last month to speak at the Royal Australasian College of Surgery (RACS) 2018 Annual Scientific Congress (ASC) and to be the recipient of the prestigious BK Rank Lecture. Benjamin Keith Rank was a world renowned plastic surgeon known as the father of plastic surgery in Australia. Dr. Rohrich was also an honored speaker at the Scientific Congress, discussing topics on patient safety and how to attain consistency and excellence in plastic surgery. The RACS 2018 ASC took place in Sydney, Australia.
During his lectures and workshops, Dr. Rohrich focused on rhinoplasty and facial rejuvenation. He described how humans age due to loss of fat in specific facial fat compartments. In the keynote BK Rank Lecture entitled "Fat Grafting: Efficacious but Safe - Where is the Evidence?" Dr. Rohrich discussed how evidence based medicine has helped make fat grafting safer and its use in reconstructive and cosmetic plastic surgery, especially in breast reconstruction. Dr. Rohrich further defined the role of fat grafting in facial and congenital reconstruction as well as its important role in facial rejuvenation. These techniques enable patients to use their own fat to reshape their face in a natural way in conjunction with a traditional deeper layer facelift including the superficial musculo aponeuroitc system (SMAS) facelift.
In addition to his lecture series, Dr. Rohrich performed cadaver dissections, live, with other international plastic surgeons at the Plastic Surgery Facial Reconstruction and Cleft and Craniofacial Workshop Anatomy Dissection. Dr. Rohrich demonstrated the open rhinoplasty approach and how to perform it in a safe and reproducible manner.
The Royal Australasian College of Surgery is the largest multi-disciplinary surgical meeting held in Australia and New Zealand. This international forum also provides attending Fellows with a valuable opportunity to share their experience, wisdom and opinions with their colleagues. Participants also have the opportunity to learn and experience first-hand the advances in surgical specialties via the various scientific programs that the RASC offers.
Dr. Rohrich is a Dallas, Texas based plastic surgeon who is continuously recognized as one of the best plastic surgeons in America and globally. He is internationally recognized educator and skilled surgeon and is regarded as an expert in facial aging and rhinoplasty and for his exceptional and unique artistic skill in restoring youthfulness and a natural unoperated look to the human face and body.
Dr. Rod J. Rohrich
Dr. Rod Rohrich is board certified by the American Board of Plastic Surgery and has a global clinical practice at the Dallas Plastic Surgery Institute. He is a Distinguished Teaching Professor and the Founding Chairman of the Department of Plastic Surgery at the University of Texas Southwestern Medical Center at Dallas. He has served as the President of the American Society of Plastic Surgeons (ASPS)—the largest society of board certified plastic surgeons in the world, the Association of Academic Chairmen of Plastic Surgery, as well as president of the Rhinoplasty Society. Dr. Rohrich was a member of the Board of Directors of the Plastic Surgery Research Council, the American Society for Aesthetic Plastic Surgery (ASAPS), Plastic Surgery Educational Foundation and the American Society of Maxillofacial Surgeons. He also served as the Chair of the Plastic Surgery Residency Review Committee of the ACGME which oversees all accredited Plastic Surgery training programs in the USA. Dr. Rohrich was also a Director of the American Board of Plastic Surgery (ABPS), chair of the ABPS Oral Exam Committee and President of the Dallas Society of Plastic Surgeons as well as the Texas Society of Plastic Surgeons. He is also a founding member of the Board of Governors of the National Endowment for Plastic Surgery.