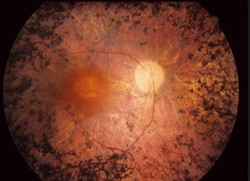 This is the first treatment approach to show statistically significant vision improvement for patients with Retinitis Pigmentosa or RP. Steven Levy MD, Study Director
WESTPORT, CT (PRWEB) June 14, 2018
Retinitis Pigmentosa or RP is a progressive, blinding eye disease that typically affects younger people and robs them of their vision. It is hereditary meaning that a parent may have a child and sadly watch the vision loss develop or a younger sibling may see an older one losing vision and know the same fate awaits them. RP is the most common retinopathy with about 1 in 4000 people having the disease. RP can overlap with other retinal problems including Cone-Rod Dystrophy, Congenital Stationary Night Blindness, Enhanced S-Cone Syndrome, Leber Congenital Amaurosis, and Macular Dystrophy. Up to 30% of patients may also have other associated problems which is called syndromic RP. This can include hearing loss, as in Ushers Syndrome.
Previously no treatment has been available to stop the progression of RP or benefit vision. Now for the first time a group of research physicians using stem cells from the person's own bone marrow has reported success in improving vision for patients with RP.
MD Stem Cells and The Healing Institute have been collaborating for several years in the largest Institutional Review Board approved stem cell studies in ophthalmology called the Stem Cell Ophthalmology Treatment Study or SCOTS and SCOTS 2. Patients can find the studies on the National Institutes of Health listing called clinicaltrials.gov under NCT 03011541. Unfortunately, their push to advance the field of medicine and develop a regenerative treatment for otherwise untreatable retinal and optic nerve disease has engendered opposition from organizations and blogs aligned with the pharmaceutical industry. Misleading press reports have attempted to confuse their efforts with stem cell clinics that have no research focus. Despite the naysayers, and with quiet support from referring clinicians and their many patients with positive outcomes, the researchers at MD Stem Cells and The Healing Institute have persisted and steadily developed their successful approach.
Now in their breakthrough paper "Stem Cell Ophthalmology Treatment Study: bone marrow derived stem cells in the treatment of Retinitis Pigmentosa", published in the leading peer-reviewed medical journal Stem Cell Investigation, the great majority of RP patients have shown visual improvement following the SCOTS protocol treatment. See http://sci.amegroups.com/article/view/19760
In the paper 64.7% of patients showed improved vision using both eyes averaging 10.23 lines of Snellen vision (the eye chart used in most eye doctors' offices) per eye after the SCOTS treatment. Of 33 eyes in the paper, 45.5% of individual eyes improved and 45.5% remained stable over the follow up period when they typically had been worsening. Using a research vision measurement called logMAR, the average visual acuity improvement ranged from 23% to 90% with an average of 40.9% improvement over baseline vision in improved eyes. The results were statistically significant (p=0.016) which is the gold standard in medicine for determining if a treatment works. In simple terms this means that the visual improvement is 98.4% likely to be a consequence of the SCOTS treatment.
The SCOTS approach is to use autologous- meaning from the same person- bone marrow stem cells (BMSC). Because the stem cells come from the same person there can be no rejection. The bone marrow stem cells are quite different from fat or adipose stem cells which have been reported to cause harm to the eye. SCOTS and now SCOTS 2 have been ongoing for almost 5 years with over 500 patients treated- so there is a vast amount of experience and technology using bone marrow stem cells that has been developed specifically for the eyes. SCOTS 2 is continuing to enroll and treat patients.
"We are gratified to know our hard work developing this approach has been proven to be of benefit to patients with Retinitis Pigmentosa and continues to be available through our study," indicated Dr. Levy, CEO of MD Stem Cells and Study Director for SCOTS and SCOTS 2. "Patients and eye care providers should know our approach is the first treatment shown to potentially improve vision for patients with RP. The improvements in vision are statistically significant and the safety profile for the procedure is excellent. This is a huge breakthrough in ophthalmology and for regenerative medicine. I wish to thank all the patients who provided the needed follow-up allowing for reporting of these results."
The Stem Cell Ophthalmology Study II (SCOTS 2) is a patient sponsored study which means there are direct costs to the patient for treatment. Visual improvement statistics and data shown apply to this group of patients as a whole- individual patient results cannot be predicted. Patients interested in participating in the SCOTS 2 study may email Dr. Levy at stevenlevy@mdstemcells.com for more information. He may also be reached at 203-423-9494 or through the website http://www.mdstemcells.com