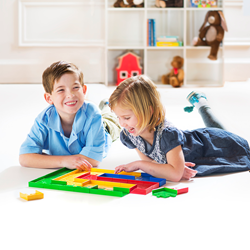 "We are excited to work with PlaSmart", says Jessica Friedman, co-inventor of Maze-O. "Maze-O fits in well with the company's line of smart, simple toys and we look forward to a great partnership."
OTTAWA, Ontario (PRWEB) June 19, 2018
PlaSmart Inc., a Canadian-based, international distributor that selects products that are smart, simple, and fun has signed a world-wide license agreement for Maze-O. Maze-O, The Mighty Maze Maker, is an open-ended STEM building toy that allows children ages three and up to design endless varieties of working mazes in just minutes.
About Maze-O
Maze-O is a fifty-two piece maze-building toy for children ages three and up. Brightly colored innovative shapes with raised edges are specially designed to drop in and connect easily. Maze-O gets kids thinking, and playing for hours, as they create seemingly limitless mazes with dead-ends, turns, and ramps. Children can unleash their own imaginations to build mazes or use plans from the fifteen, double-sided design cards. Set pieces are sized to be compatible with popular brands of toy vehicles, robots, and critters that can be used to twist, turn and avoid barriers as they travel along newly-created maze passages. Maze-O encourages imaginary play and helps develop eye hand coordination, spatial reasoning, problem solving, strategy and critical thinking.
"We are excited to work with PlaSmart", says Jessica Friedman, co-inventor of Maze-O. "Maze-O fits in well with the company's line of smart, simple toys and we look forward to a great partnership." PlaSmart CEO Tim Kimber adds, "I was immediately impressed with the play value and STEM learning features of Maze-O and am confident this toy will have lasting appeal to both children and parents."
Maze-O History
Inventors Jessica and Dan Friedman of Lino Lakes, Minnesota were inspired to create Maze-O while watching their four year old son attempt to build his own mazes. The young boy would carefully line up wooden blocks to form passageways, but they were easily destroyed, especially with two little sisters around. "We came up with Maze-O so he would have a simple, durable way to create any maze he could dream up", remarks Dan. Once developed, the two inventors wanted to share the fun and learning of Maze-O with other children.
About PlaSmart Inc.
PlaSmart Inc. is a Canadian-based, global toy distributor that chooses products that are smart, simple, and fun. It seeks out interesting, one-of-a-kind toys that meet its 'smart and simple' philosophy and avoids toys that are difficult to understand or operate. Strong brand values and quality products, tested to the highest standards, form the foundation upon which PlaSmart was built. Established in 2003, the company focuses on toys and games that develop motor and dexterity skills, balance, creative and imaginative play, eye hand coordination, problem-solving and, of course, fun.
PlaSmart's products include multiple award-winning toys and games, including the ever-popular Original PlasmaCar®, a mechanical marvel powered by the cleanest and most inexhaustible energy source, Kid Power. PlaSmart is proud to work with toy inventors and designers who share its vision. The company's products are available on five continents and in over fifty countries. For more information visit PlaSmart's website.