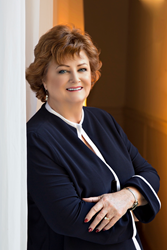 Nancy's bold and frank style is evidenced by the keynote topic "Transforming Leaderocrity™ which she says is a must-do for every organization.
SUGAR LAND, Texas (PRWEB) June 14, 2018
CDR Assessment Group, Inc. announces the launch of a new website to highlight Nancy Parsons' distinctive speaking services at http://www.nancyparsonsspeaks.com. Parsons is known for challenging many of today's leadership development approaches and performance results, and backs up her contrarian contentions with solid data and practical solutions. Her bold and frank style is evidenced by the keynote topic "Transforming Leaderocrity™" which she says is a must-do for every organization. Parsons contends that the "same old, same old" approaches to leadership effectiveness aren't working and she provides an ingenious, yet practical, road map for success.
Those who know Parsons best describe her as:
"…refreshingly frank, bold, funny, wicked smart and passionate! Nancy sheds new light on leadership effectiveness, personality strengths, inherent risks and motivational data changing performance, careers and lives."
Another important keynote topic focuses on women in leadership with "Fresh Insights to END The Glass Ceiling" based on Parsons' researched based book that shatters current thinking about why the glass ceiling exists. This presentation exposes the true root causes and provides practical solutions for ending this barrier for aspiring women and organizations.
For two decades, Nancy Parsons has been president of CDR Assessment Group, Inc. as well as a top global leadership development expert and executive coach. She is author of numerous industry articles, blogs, and has been interviewed by dozens of media outlets. She also penned "Assessing Your Entrepreneurial Profile" published in Rod Robertson's book, "Winning at Entrepreneurship." Most notable clients have included The Pentagon, Chevron Phillips Chemical Company, Sunoco Logistics, Humana, C.R. Bard, Frontier Communications, PDI. Inc., IE Business School, and Nomura Global Investments, to name a few.
CDR Assessment Group, Inc. was founded in 1998 by Nancy Parsons and Kimberly Leveridge, Ph.D. and is now headquartered in Sugar Land, Texas. CDR Assessment Group, Inc. provides cutting-edge assessments, executive coaching, women in leadership and authentic leadership workshops, consulting services, coaches' certification, and assessment based training solutions for leaders worldwide.
Parsons is the architect and leader of "Vets Coaching Vets," a philanthropic endeavor which launched in 2016. The CDR team of executive coaches provides coaching, training and certification for veteran organizations to provide career transition coaching for veterans using CDR Assessments to fast track their success onto their own best paths. Parsons is a member and on the leadership council of The Alexcel Group and international forum of top executive development experts.
For more information or to book Nancy Parsons, contact:
Nicole Scarbrough
nscarbrough(at)cdrassessmentgroup.com
281-207-5470