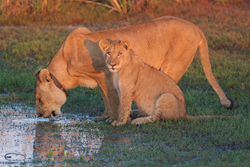 Cape Town (PRWEB) June 14, 2018
Michael Lorentz and leading nonprofit conservation organization African Parks today announced that Lorentz will join the new Conservation Travel Initiative as one of four travel industry partners.
The Conservation Travel Initiative will focus on sharing with travelers first-hand the work of African Parks through once-off expeditions and limited offerings. These will leverage Michael's wealth of experience and his reputation for enabling access to wild places. Beginning in mid-2018, Michael and African Parks will offer these special expeditions to key emerging destinations in African Parks' conservation portfolio, namely Zakouma National Park (Chad), Bangweulu Wetlands (Zambia), Liuwa Plain National Park (Zambia), Odzala-Kokoua National Park (Congo-Brazzaville) and Akagera National Park (Rwanda).
These expeditions will serve to highlight the contemporary conservation work of African Parks and attract individuals with a strong interest in supporting and funding conservation of African wildlife and communities. This more intentional travel allows guests to go well beyond the typical tourism experience to connect more deeply with the cultures, wildlife and wilderness across Africa.
Founded in 2000 in response to the dramatic decline of protected areas due to poor management and lack of funding, African Park utilizes a clear business approach to conserving Africa's wildlife and remaining wild areas. While securing vast landscapes and carrying out all activities needed to protect the parks and their wildlife, African Parks maintains a strong focus on economic development and poverty alleviation of surrounding communities to ensure that each park is ecologically, social and financially sustainable for the long term.
This new initiative aims to be a tangible example of the conservation and tourism industries' joint efforts to protect and conserve African wildlife and wilderness in perpetuity. It will also support African Parks' goal of reaching its '20 Parks (under management) by the year 2020'. By participating in these private expeditions, travelers will not only experience unique wildlife encounters and have access to otherwise inaccessible destinations, they will also join a community of global conservation contributors highly valued for the benefits they can bring to the crucial work of African Parks.
Says Michael: "My commitment to and vision of conservation is completely aligned with that of African Parks – in my view the most effective conservation organization on the continent. Zakouma is just one of their success stories, proving that sharing the thrill of discovering Africa's wildest places with global change makers can alter the trajectory of Africa's conservation story from one of doom and gloom, to one of inspiration. This new partnership formalizes my long-held relationship with African Parks, and recognizes the powerful impact that curated travel can have on conservation efforts. I am both honored and excited to be a part of the initiative."
For more information about Conservation Travel Initiative's bespoke expeditions, or to learn more about African Parks, please visit: https://www.africanparks.org/conservation-travel-partners
About Michael Lorentz
From insatiably curious child collecting natural treasures, to renowned safari guide, award-winning photographer and committed conservationist, Michael Lorentz has never wavered in his dedication to and passion for Africa's wildlife and wilderness. Starting out as a young guide in South Africa, he is now, 30+ years later, a highly regarded thought leader and opinion maker in conservation travel circles, and has long been a supporter of African Parks through his businesses and philanthropic endeavors. Founder of Passage to Africa, partner in Royal African Safaris and Royal Geographical Society Fellow, Michael is a pioneer at the intersection of travel, conservation and philanthropy. Every journey he curates and leads – whether in the most classic or edgy of safari destinations – is underpinned by his desire to change the trajectory of Africa's conservation story from one of doom and gloom, to one of inspiration. For more information, please visit: https://royalafricansafaris.com/michael-lorentz/
About African Parks
African Parks is a non-profit conservation organization that takes on the complete responsibility for the rehabilitation and long-term management of national parks in partnership with governments and local communities. We currently manage 15 national parks and protected areas in nine countries, covering 10.5 million hectares: Benin, Central African Republic, Chad, the Democratic Republic of Congo, Malawi, Mozambique, the Republic of Congo, Rwanda and Zambia. Our goal is to manage 20 parks by 2020, protecting more than 10 million hectares. Because of the geographic spread and representation of different ecosystems, this will be the most ecologically diverse portfolio of parks under one management across Africa. For more information, please visit http://www.africanparks.org.