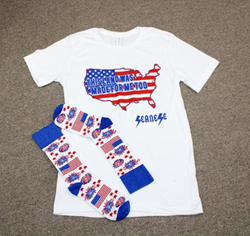 John said, "I have Down syndrome, but Down syndrome never holds me back."
MELVILLE, N.Y. (PRWEB) June 14, 2018
Two Entrepreneurs With Down Syndrome Collaborate on Joint Project: John's Crazy Socks and Seanese Tee's
A pair of entrepreneurs, who happen to have Down syndrome, have each created a successful business and now they are teaming up for a joint project. John Cronin, who co-founded John's Crazy Socks is collaborating with Sean McElwee, who founded Seanese Tees. Sean is also a cast member of The Emmy Winning Docu-Series "Born This Way" on A&E. The duo collaborated to produce a special patriotic gift box for Independence Day called John and Sean Coast To Coast Patriotic Gift Box. The gift box features Fireworks Socks designed by John and "This Land Was Made For Me Too" T-Shirt designed by Sean of Seanese Tee's. Two dollars from the sale of each patriotic box will go to fund Down syndrome research.
Sean said, "I am so excited to work with John on this project I have a bunch of his socks and these socks totally rock." John said, "I love the t-shirt that Sean designed. It goes so well with my firework socks."
With John living on the east coast, and Sean on the west, they had the idea to create a coast to coast gift box. They boys are on a mission: they are going to send photos of themselves across the country and they want YOU to send them photos of where you are in the United States.
Why collaborate? John and Sean demonstrate how people with differing abilities can contribute to society. They can create great products and run successful businesses. John said, "I have Down syndrome, but Down syndrome never holds me back." Sean said, "Together, John and I want to show the world what is possible."
We will be donating $2 Dollars of this gift box to LuMind RDS Foundation, which conducts research on Down syndrome with an emphasis on the connection between Down syndrome and Alzheimer's. Virtually all adults with Ds develop the neuropathology (amyloid beta plaques and tau tangles) consistent with Alzheimer's by their 40s. At age 40, 10% already have Alzheimer's dementia.
"Born This Way" star Sean McElwee had an idea that sparked the creation of his t-shirt company, Seanese Tee's. He was preparing to give a keynote speech at a Gigi's Playhouse Gala when he told his mom he thought his speech was boring and wanted to make some changes. Sean shared his ideas, and as they sat down to re-write the PowerPoint presentation, Sean had an epiphany: "Now we need shirts and hats and bags." When Sean wanted to start his business, his mom Sandra called a graphic artist friend who explained how to get a t-shirt business started. Three months later the first designs were on the Seanese website. Today Sean has 120 designs. In his first year of business Sean donated 10% of his profits to Down Syndrome non-profits.
John started his business with his dad during his last year of high school, opening their online business in December 2016. They made a commitment to showing what is possible for people with differing abilities, giving back and offering socks people can love. John wanted to do meaningful work, so he turned to something he loved: wearing crazy socks. In their first year of business, they shipped over 42,000 orders to 44 countries and earned $1.7 million in revenue. They have moved to their own office/warehouse and now employ 35 people, 16 of whom have a differing ability.
About Seanese Tees
Sean is the President and Chief Creative Officer of Seanese. He comes up with the shirt ideas, phrases, and designs the shirts. Sandra, Sean's mom is the Chief Dream Facilitator, helps with the website and accounting. Sean has final say on all designs.
When Sean was little, his parents had to translate his speech because people had difficulty understanding him. "They said I speak "Seanese," said Sean. "Now I am putting my thoughts and sayings on shirts, so you can speak Seanese too!"
Sean wants the world to know that having Down syndrome isn't that big of a deal. "Every baby should be celebrated, and nobody should cry because they had a baby with Down syndrome. Parents believe in your kids, they are amazing." Sean's new donation program will provide free and low-cost baby onesies to new parent baskets. $1.00 from every item ordered goes towards my new Welcome Baby Onesie Mission.
You can follow Sean's journey at his website: https://seanese.com/.
About John's Crazy Socks
John's Crazy Socks was co-founded by the father son team of Mark and John Cronin. John says, "we have a mission to spread happiness." They opened their online store on December 9, 2016 and have managed to grow the company rapidly.
Mark X. Cronin says, "We offer over 1,900 different socks that people can love: beautiful, colorful, fun and crazy socks that let people express their passions and personalities. We deliver the socks through fast and personal service and every package includes some candy and a thank you note from John." Giving back is important at John's Crazy Socks so the company donates five percent of earnings to the Special Olympics and raises money for its charity partners through Awareness and Charity Socks.
John's Crazy Socks has garnered media attention from the BBC, Fox Business News, ABC News, Money Magazine, The Mighty and Fox-5NY and WABC-TV among other media outlets.
To learn more about John's Crazy Socks, please visit our website (https://johnscrazysocks.com/) or Facebook page. You can also contact us at service@johnscrazysocks.com or call 631-760-5625 and how you can order your John and Sean Coast to Coast Patriotic Gift Box!