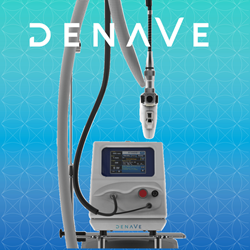 "The DenaVe is a prime example of Cartessa's commitment to sourcing not just those devices that out-perform clinically, but those that offer a better financial model for practices" states Gabe Lubin, Founder and CEO of Cartessa. "The DenaVe represents the future of vascular lasers."
MELVILLE, N.Y. (PRWEB) June 14, 2018
Cartessa Aesthetics, a leading distributor of aesthetic medical devices for dermatologists, plastic surgeons, cosmetic physicians and medical spas, is introducing the DenaVe Laser to the U.S. market. Built exclusively for Cartessa, the DenaVe represents a significant advancement in the treatment of vascular and pigmented lesions.
For over 20 years, the pulsed dye laser has been the gold standard for vascular treatments. This technology, effective as it is, presents challenges to both physicians and patients – from high cost of ownership for the practitioner, to downtime and side effects for the patient. The DenaVe eliminates these concerns as the first compact laser to output the same key wavelength, but do so via fiberoptic in either continuous or pulsed modes. Treatments can be performed with minimal risk of purpura for patients and virtually zero cost of ownership for the provider.
"The DenaVe is a prime example of Cartessa's commitment to sourcing not just those devices that out-perform clinically, but those that offer a better financial model for practices," states Gabe Lubin, Founder and CEO of Cartessa. "The DenaVe represents the future of vascular lasers."
The DenaVe is poised to offer a better patient experience for those with rosacea – a condition affecting over 16 million Americans. According to an annual survey by American Society for Dermatologic Surgery (ASDS), the two most common laser, light and energy-based procedures are for sun-damage and facial redness. With DenaVe's optimized fiberoptic delivery of a 585nm laser, it offers a better option to treat both conditions.
"We are seeing excellent, durable results from well-tolerated treatments with The DenaVe," Dr. Nazanin Saedi, Director of Jefferson Laser Surgery and Cosmetic Center, states. "The 585 nm wavelength is excellent for vasculature with less effect on the melanin. The device is easy to use and versatile making it a great addition to my practice and for my patients."
The DenaVe has various design features that make it a more precise laser including; selectable filling mode, multiple shapes, adjustable area size and variable spot pitch to match the vessels or pigment shape and size. With no consumables or maintenance costs and several advancements that minimize discomfort and side effects, the DenaVe represents a step-forward in-regards to financial and clinical expectations.
Practitioners interested in learning more about the DenaVe can reach out to a Cartessa agent now.