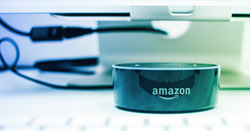 Companies are seeing higher returns and lower costs on their Amazon ad spend compared to Google.
BOULDER, Colo. (PRWEB) June 15, 2018
Room 214, a digital marketing and social media agency, launches its Amazon Marketing Strategy and Optimization Services today, focused on helping companies to more effectively market and sell in the Amazon Marketplace.
The agency's new offer comes at a time when popular retail stores across the US are closing, over 40% of US households are Amazon Prime subscribers, and more businesses look to an Amazon marketing strategy for opportunities in direct-to-consumer, online sales.
What began in 2017 as responses to (Room 214's) client inquiries, ranging from how to sell on Amazon to how to improve Amazon ads and optimize product listings, is now an advanced offering of project-based and monthly support packages for businesses with Amazon Seller Central Pro and Amazon Vendor Central accounts.
"Providing a better way to help companies successfully sell on Amazon is an obvious evolution for the agency, especially when companies are seeing higher returns and lower costs on their Amazon ad spend compared to Google," stated Jason Cormier, Co-founder of Room 214.
"While the same ecommerce, content marketing and advertising fundamentals we've applied to help companies sell online over the last decade have proven helpful - the reality is that sales, product launches and store management on Amazon is a completely different animal."
From store setup and promotional planning, to full management of Amazon Marketing Services (AMS) - Room 214's new offering includes Amazon advertising strategy and ad placement, Amazon SEO, product content optimization, campaign development, market research, analytics, analysis and reporting.
About Room 214
Room 214 helps you think offense, always. Founded in 2004 as a digital marketing agency dedicated to helping brands connect with the people who matter most, the Boulder-based agency drives growth and innovation for its clients with data-driven insights that integrate all facets of digital and social media, e-commerce and content marketing services for B2B and B2C companies. Room 214 is a Google Premier Partner, Facebook Advertising Partner, HubSpot Gold Partner and publisher of the Amazon best-seller, Transformative Digital Marketing. The agency has been recognized as a fastest growing company in Inc. Magazine, is in Ad Age's top 25, and Outside Magazine's top 10 best places to work in America.