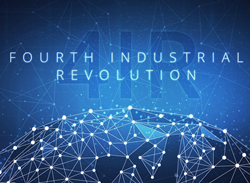 Manufacturing in America is back, and new technologies make it stronger than ever.
HOBOKEN, N.J. (PRWEB) June 14, 2018
A NYC area IT consultant and MSP outlines the potential impact of the digital transformation occurring in manufacturing, often referred to as the fourth industrial revolution, in a new article from eMazzanti Technologies.
The informative article reviews five areas where business leaders can adopt a proactive approach and join the revolution, including supply chain management, connected devices, cloud computing, data analytics and training a digital-savvy workforce.
"Manufacturing in America is back, and new technologies make it stronger than ever," stated Jennifer Mazzanti, CEO, eMazzanti Technologies. "With secure robotics, IoT devices, analytics and supply chain management, innovators are leading the way."
Below are a few excerpts from the article, "Join the Fourth Industrial Revolution: 5 Ways to Transform Your Business"
"A revolution is underway. It is disruptive and worldwide, and it has the power to radically change modern society. For manufacturing, the fourth industrial revolution brings both challenge and opportunity. Businesses can harness the power of the revolution to increase productivity, reimagine factory processes and improve efficiency."
1. Supply Chain Management
"From the vendor that maintains your production equipment, to the assembly line and the warehouse and on to the customer, the IoT can transform your supply chain. Asset tracking and inventory management provide a great place to start."
2. Connected Devices
"From collaborative robots that work side-by-side with humans on the factory floor, to machinery that provides an alert before maintenance is needed, connected devices are streamlining manufacturing. In a smart factory, machines communicate with each other and with the humans who operate them. Operators can easily monitor workloads and equipment condition and make adjustments remotely."
3. Cloud Computing
"Cloud computing provides the power behind connected devices. According to the International Data Corporation, by the year 2020, 60 percent of robots will depend on cloud-based software. Cloud applications facilitate the flow of data from machinery to human workers, as well as instructions from humans back to the machines."
Partner in Business Transformation
One certain characteristic of the fourth industrial revolution is the rapid evolution of technology. Yesterday's possibilities have become the norm of operation today. At the same time, increased cyber threats require multi-layer cyber-defense solutions.
eMazzanti Technologies offers customized cloud, network and manufacturing cyber-security solutions. With extensive industry expertise, its team of experts can help business leaders determine a path to embracing the possibilities of the future.
Related resource information:
The Risks of GDPR Non-Compliance
High Availability Prevents Business Losses from Hurricanes
About eMazzanti Technologies
eMazzanti's team of trained, certified IT experts rapidly deliver retail and payment technology, digital marketing services, cloud and mobile solutions, multi-site implementations, 24×7 outsourced network management, remote monitoring and support to increase productivity, data security and revenue growth for clients ranging from law firms to high-end global retailers.
eMazzanti has made the Inc. 5000 list eight years running, is a 2015, 2013 and 2012 Microsoft Partner of the Year, 2016 NJ Business of the Year, 5X WatchGuard Partner of the Year and one of the TOP 200 U.S. Microsoft Partners! Contact: 1-866-362-9926, info@emazzanti.net or http://www.emazzanti.net Twitter: @emazzanti Facebook: Facebook.com/emazzantitechnologies.