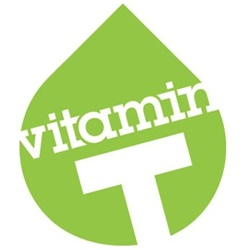 LOS ANGELES (PRWEB) June 14, 2018
Vitamin T is proud to announce that it has been named the recipient of a 2018 Comparably Award: Best CEOs for Women. Vitamin T is humbled by this recognition as it illustrates the company's desire to be a positive driver of workplace excellence.
According to Jason Nazar, CEO of Comparably, "2018 is the year in which women across the country stood up and spoke out against gender discrimination, pay inequality, and harassment in the workplace." He further explained: "Comparably's Best CEOs for Women awards recognize the leaders that female employees ranked as the best of the best. These CEOs create cultures that support and encourage women, and we hope they will motivate other leaders to do the same."
Comparably provides data on careers, compensation, and culture, and it is internationally recognized for its monitoring services. In establishing its Leadership Awards, Comparably gathered data for participating employees between May 2017 and May 2018.
Vitamin T is proud to be included among other first-rate companies that are doing their part to create an equal environment where women and men can showcase their talents and evolve to reach their potential. According to Susie Hall, Vitamin T president, "Vitamin T is especially pleased to have won this recognition because it was based on actual employee input. It means a lot to know that we are creating the type of workplace where women can thrive."
Comparably created a survey that asked employees pointed questions about workplace culture, salary, and more. Participants paid no fees to be part of the survey. Comparably required large companies with 500 or more employees to have at least 50 willing survey participants, while medium / small companies with less than 500 employees were required to have at least 15 willing survey participants.
Answers to survey questions were given a numerical score and then compared to the scores of U.S. companies of similar size. In the end, Comparably compiled its results from a whopping 3 million ratings gathered from 30,000 companies spread throughout the United States.
Other companies that have been recognized by Comparably for their positive work environments for women include Costco, T-Mobile, Google, Adobe, Home Depot, Amazon, Faithlife, SmartBug Media, VOX Network Solutions, and Wibbitz. For more information about Comparably, visit their website at: https://www.comparably.com/about-us.
About Vitamin T
Vitamin T is the talent agency for digital creatives. We personally meet each of our candidates face-to-face and conduct hands-on assessments and full portfolio reviews to ensure our talents' skills are best in class. We provide subsidized medical, dental, and vision benefits, as well as a 401(k) plan—not to mention free online training through Aquent Gymnasium. And because we're local, you'll always have highly qualified candidates as fast as humanly possible. To learn more, please visit: https://vitamintalent.com.
Contact Details:
Tim Donnelly, Media Contact
Phone: 323.475.7372
Email: tdonnelly(at)vitamintalent.com
Address: Vitamin T
5670 Wilshire Blvd #1000
Los Angeles, CA 90036
Source: Vitamin T