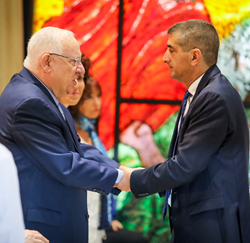 Your hospital and team were an integral part of the Zionist vision and are living proof of its success.
TEL AVIV, Israel (PRWEB) June 14, 2018
Nearly 100 top supporters of Sheba Medical Center, Tel Hashomer from the United States, Canada and Europe gathered for a private celebration of Sheba's 70th anniversary at the home of Israeli President Reuven Rivlin. The event celebrated the remarkable evolution of the medical center and the State of Israel over the past 70 years.
In a powerful address, Sheba Medical Center Director General Prof. Yitshak Kreiss thanked President Rivlin for his hospitality and credited the generosity and commitment of the hospital's donors with helping develop Sheba into a global powerhouse and city of health.
"Thank you, Mr. President, for honoring Sheba on her 70th anniversary by hosting us in your residence," said Prof. Kreiss during his remarks at the ceremony. "You, the friends of Sheba from Israel, and those who flew in from all across the globe to honor us with your presence here today, are truly the anchors of our hospital."
President Rivlin expressed his heartfelt appreciation for Sheba's physicians and staff: "You are public servants and the hearts and minds behind the finest healthcare Israel has to offer," he said. "Your hospital and team were an integral part of the Zionist vision and are living proof of its success."
Founded in 1948, Sheba Medical Center was established to treat wounded soldiers from the battlefield during the War of Independence. After 70 years, Sheba continues to serve the citizens of Israel, and the world, providing the highest quality of care to all who need it regardless of background or nationality.
"What also fills me with pride are the 8,500 compassionate and dedicated people who are employed at Sheba," Prof. Kreiss told President Rivlin and the honored guests gathered for the celebration of Sheba at 70. "These extraordinary people are working around the clock, 365 days a year, dealing with the holiest mission of saving lives and healing the mind, body and soul."
About Sheba Medical Center
Born together with Israel in 1948, Sheba Medical Center, Tel Hashomer is the largest and most comprehensive medical center in the Middle East. Sheba is the only medical center in Israel that combines an acute care hospital and a rehabilitation hospital on one campus, and it is at the forefront of medical treatments, patient care, research, education and innovation. As a university teaching hospital affiliated with the Sackler School of Medicine at Tel-Aviv University, it welcomes people from all over the world indiscriminately.