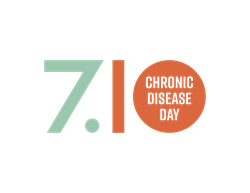 "We started Chronic Disease Day because if we work together we can make widespread improvements for people and also mitigate the unsustainable financial toll that chronic illness takes on our national healthcare system" - Clorinda Walley, president of Good Days
PLANO, Texas (PRWEB) June 14, 2018
Good Days, a national, independent 501(c)(3) non-profit charitable organization that makes life-saving and life-extending treatments affordable, today announced the launch of ChronicDiseaseDay.org and a suite of free online public resources to help manage individual mental, physical and emotional well-being.
Chronic Disease Day takes place each year on July 10 (7/10) to represent the seven out of ten individuals in the United States who succumb to chronic conditions such as all types of cancer, cardiovascular disease, stroke, diabetes, and other chronic and rare conditions. Chronic Disease Day raises awareness on the challenges for individual access to care and promotes self-care best practices to reduce individual risk and lower national health care costs.
ChronicDiseaseDay.org features free Simple Self-Care Tip Cards each focused on a different aspect of overall well-being, with suggestions to identify and cope with different forms of stress, improve exercise and diet, and find strength through personal support systems.
"Our charity knows firsthand the challenge that access to care poses for hundreds of thousands of Americans who find themselves under-insured when chronic illness strikes," says Clorinda Walley, president of Good Days. "We started Chronic Disease Day because if we work together we can make widespread improvements for people and also mitigate the unsustainable financial toll that chronic illness takes on our national healthcare system."
Access to medical care is often financially prohibitive for many Americans with chronic illness. Hundreds of thousands of Americans suffer from unpreventable and costly chronic and rare conditions. But the deadliest and costliest chronic diseases, such as cardiovascular, stroke, diabetes, cancer, and obesity, are also the most preventable. According to the Centers for Disease Control, 25 percent of Americans have at least one chronic illness, and that number rises to 75 percent of adults aged 65 and older. It has been estimated that chronic disease accounts for 86 percent of the nation's $2.7 trillion annual health care expenditures.
Chronic Disease Day improves public knowledge of the risks of chronic disease and raises awareness on everyone's opportunities to extend their quality of life and lower healthcare costs through preventative well-being practices. Chronic Disease Day is recognized in cities and states across the country. Good Days collaborates with individuals throughout the United States to make annual requests for their hometown or state to recognize Chronic Disease Day. Anyone can learn if their hometown recognizes Chronic Disease Day or apply with Good Days for a proclamation request by emailing chronicdiseaseday(at)mygooddays.org.
Visit ChronicDiseaseDay.org to download free copies of our Simple Self-Care Tip Cards and Summer Travel Checklist.
Good Days is a national, independent 501(c)(3) non-profit charitable organization that makes life-saving and life-extending treatments affordable. Since 2003, Good Days has provided more than 800,000 grants and helped more than 500,000 people with access to healthcare resources.