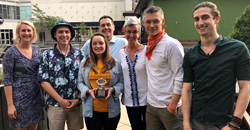 CHARLOTTE, NC (PRWEB) June 19, 2018
Mallard Creek Polymers (http://www.mcpolymers.com) and Knowmad Digital Marketing (http://www.knowmad.com) were recognized for their successful Inbound Marketing Campaign at the Carolinas Business Marketing Association's (BMA) annual ProAds Awards Banquet.
The ProAds Awards competition, hosted by the BMA Carolinas, recognizes the best in creative marketing and strategy applied to B2B marketing and is the largest of its kind in the Carolinas. Recognition is awarded by a jury of industry peers. Knowmad's Co-Founder and Partner, Diona Kidd, was named as 2018's B2B Marketer of the Year.
Mallard Creek Polymers and Knowmad Digital Marketing were jointly named Silver Winners for the Inbound Marketing Campaign that the two companies developed together. The client's goal for 2018 was to generate new customer inquiries and increase support for existing customers. As a result of targeted SEO strategy and content development, the campaign exceeded the new customer acquisition goal by 110% and delivered a 13% overall increase in product volume sales.
Mallard Creek Polymers, a leading international polymer manufacturer, has worked with Knowmad since 2009. From marketing collaboration to launching a fully redesigned website in 2015, they have allowed Knowmad to serve as a guide to uncover the best ways to utilize Mallard's existing talents and products to reach its audience online.  
About Knowmad Digital Marketing
Knowmad Digital Marketing is an internet marketing agency based in Charlotte, NC, that specializes in boosting online lead generation and website traffic for mid-market enterprises and local businesses. Our services include Inbound marketing, custom website design, search engine optimization (SEO), local search marketing, pay per click management and content marketing. With 15 years of experience growing businesses online, our company philosophy of great service, great work and great culture ensures quality client service and results. Learn more about Knowmad Digital Marketing at https://www.knowmad.com.
Social Media Links:
G+: https://plus.google.com/+Knowmad
LinkedIn: https://www.linkedin.com/company/knowmad/
Facebook: [https://www.facebook.com/knowmadclt/
Twitter: https://twitter.com/KnowmadCLT
###