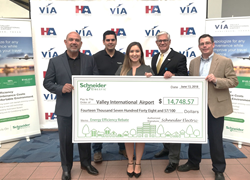 We are thrilled to mark this historic day in our nearly 15-year partnership with Schneider Electric.
HARLINGEN, Texas (PRWEB) June 15, 2018
Energy and sustainability expert Schneider Electric today announced that Valley International Airport in Harlingen, Texas has achieved nearly $15,000 in energy savings in the latest phase of a comprehensive energy efficiency project. Schneider Electric presented a rebate check to airport and city officials at an event in the airport's main concourse. In total, the multi-phase project will deliver an estimated $1.58 million in savings and reduce the airport's annual utility expenses by 38 percent.
"We are thrilled to mark this historic day in our nearly 15-year partnership with Schneider Electric," said Bryan Wren, Assistant Director of Aviation, Valley International Airport. "This savings milestone is a testament to our ongoing sustainability and facilities improvement commitments, allowing us to improve operations while reducing our overall energy spend."
The most recent phase of the project was funded by a federal grant and encompassed a variety of upgrades to airport facilities to improve energy efficiency and enhance the airport experience for travelers, including:

Retrofitted lighting system with LED technology and daylight dimming controls
Streamlined operations with building automation system improvements
Improved air quality through installation of an ultra-violet light filtration system
Enhanced comfort with air handler and cooling tower replacements and a dedicated outside air system to pretreat ventilation air before it enters the building
Schneider Electric has partnered with Valley International Airport since 2005, when it began work on the first phase of the project, which focused on replacement of the airport's existing building automation system and lighting fixtures. This phase delivered $1.1 million in guaranteed savings and was funded through an energy savings performance contract (ESPC), which uses projected utility savings to pay for infrastructure improvements.
A third phase of the project will begin later this year and will focus on replacements of fan coils, further improving comfort for travelers and airport workers.
"Valley International Airport has demonstrated an unwavering commitment to driving its sustainability initiatives forward, and we are proud to help the airport improve its everyday operations and experience for the thousands of travelers that pass through its terminal each day," said Tammy Fulop, Vice President, Schneider Electric. "We are committed to helping public entities in Texas and beyond achieve their wish lists for facilities improvements while becoming leaders in sustainability, all at no cost to taxpayers."
The project builds on Schneider Electric's expertise in delivering energy efficiency solutions in Texas, having implemented over 236 energy efficiency projects for over $350 million in total achieved savings throughout the state. In addition to its work with Valley International Airport, Schneider Electric has recently partnered with Scurry-Rosser Independent School District, the City of Raymondville and Webb County.
Over the past 25 years, Schneider Electric has successfully implemented more than 700 ESPC projects across the nation, saving its clients nearly $2 billion. This project delivery method helps publicly funded entities make capital improvements over longer payback periods and offers many long-term benefits such as improved facility efficiency, occupant comfort, financial management and environmental protection.
For more information on how Schneider Electric helps public entities tackle their top priorities with energy efficiency, please visit http://www.schneider-electric.us/enable
-XXX-
Photo Caption:
Valley International Airport officials are presented with a $14,748 rebate check from Schneider Electric. Pictured Left to Right: Aaron Garcia, Schneider Electric Sr. Account Executive; Jaime Jimenez, Schneider Electric Sr. Performance Assurance Consultant; Peyton Loposer, Schneider Electric Regional Client Coordinator; José A. Mulet, Valley International Airport Director of Air Service Development – Marketing and Airline Ground Handling; Bryan J. Wren, Valley International Airport Assistant Director of Aviation
About Schneider Electric
Schneider Electric is leading the Digital Transformation of Energy Management and Automation in Homes, Buildings, Data Centers, Infrastructure and Industries. With global presence in over 100 countries, Schneider is the undisputable leader in Power Management – Medium Voltage, Low Voltage and Secure Power, and in Automation Systems. We provide integrated efficiency solutions, combining energy, automation and software. In our global Ecosystem, we collaborate with the largest Partner, Integrator and Developer Community on our Open Platform to deliver real-time control and operational efficiency. We believe that great people and partners make Schneider a great company and that our commitment to Innovation, Diversity and Sustainability ensures that Life Is On everywhere, for everyone and at every moment.
http://www.schneider-electric.us
Hashtags: #SchneiderElectric #ValleyInternationalAirport #Texas #EnergyEfficiency #LifeIsOn #DigitalEconomy