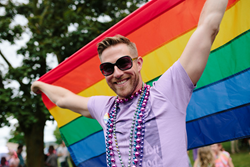 TRAVERSE CITY Mich. (PRWEB) June 15, 2018
Traverse City's official LGBT+ Pride Celebration and Michigan's Premier Destination Pride event is taking place June 18-24 throughout downtown Traverse City, and it goes by the name of Up North Pride.
The weeklong event includes the largest participant-driven LGBT+ Pride March in the state, which takes place on Saturday, June 23 beginning with a rally at 5:30pm at downtown's F&M Park. This marks the fifth year of the celebration, with a continued mission of making the region a more diverse, inclusive and safe place for everyone.
All falling under the 2018 theme of "We the People," the lineup of festivities varies with options of entertainment, food and drink, live performances plus more---and the majority free to public or with suggested donation. Check out the brief rundown below and find more details at upnorthpride.com as well as traversecity.com.
June 18
7-9:30pm Here:Say Storytelling at The Workshop Brewing Company
June 19
6-7pm LGBT+ Shorts at The State Theatre
June 20
5:45-7pm Pride Ride with Norte and TC Rides starting at F&M Park, end at Rare Bird Brewpub
7-8pm Sign Making Party at Rare Bird Brew Pub with Blackbird Arts
10pm-2am Pride Karaoke at SideTraxx Video Dance Bar
June 21
5-9pm Prism > A Pop-up Gallery Experience, queer art and fresh local treats at Warehouse MRKT
June 22
8-10pm Up North Pride Drag Night at The Little Fleet and Wellington Street, including live performances, cocktails and special drag celebrities
11pm-12am The Bayside Bombshells Burlesque Troupe at SideTraxx Video Dance Bar
June 23
10-11am Yoga at The Open Space led by People's Yoga and Ariel Fitness
3-6pm Pride Picnic in F&M Park, live music, family-friendly activities, food vendors
5:30-6:30pm Up North Pride Rally at F&M Park featuring Up North Pride founders, Traverse City Mayor Jim Carruthers and 2018 Grand Marshal, followed by Up North Pride March down Front Street
7pm-12am Block Party on Garland Street featuring live music, DJs, cocktails, foodtrucks and dancing
June 24
11am-12pm Big Gay Brunch + Founder's Party at The Little Fleet